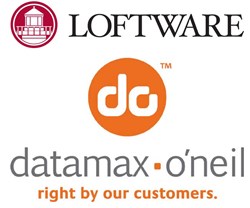 The addition of the DPL Family Driver to Loftware's solution is a great benefit to our customers that depend on Loftware's industry leading enterprise labeling solutions for large ERP systems.
Portsmouth, NH (PRWEB) October 23, 2013
Loftware, Inc., the global leader in enterprise labeling solutions, announces the release of Loftware Print Server (LPS) version 10.1 SP1 and Loftware Label Manager (LLM) version 10.1 SP1. Continuing to deliver on Loftware's commitment to innovate, this release extends the power of the solution's ground breaking Family Drivers to include support for Datamax-O'Neil's DPL printing language.
This release builds on the LPS 10.1 and LLM 10.1 new features that afford customers a new level of control and traceability of label changes, include the ability to embed images in label templates, expanded SMTP, and ease-of-use enhancements.
Loftware's DPL Family Driver dramatically reduces label maintenance requirements and "Future-Proofs" customer environments by supporting printer models even before they are released. This new Family Driver empowers customers using Datamax-O'Neil printers to use fewer templates that meet labeling demands while providing "forward-compatibility"; allowing a single template to be used for native printing to current and next-generation printer models.
"We are excited to add Datamax-O'Neil to our catalog of unrivaled printer family driver," said Scott Johnson, Loftware's Director of Product Management. "Close collaboration with our partners at Datamax-O'Neil has helped to ensure that Loftware is delivering a solution that can significantly improve our customers' operational efficiency."
"Datamax-O'Neil and Loftware share a large base of world-class customers," said Cindy Guiles, Senior Product Manager for Datamax-O'Neil. "The addition of the DPL Family Driver to Loftware's solution is a great benefit to our customers that depend on Loftware's industry leading enterprise labeling solutions for large ERP systems."
The release of LPS and LLM version 10.1 SP1 also expands existing Label Versioning capabilities by providing additional support for alternative commands to request different label versions when integrating with enterprise systems. This release also introduces improved barcode printing with Datamax-O'Neil printers and updates to the recommended defaults for other printers.
With over 5,000 global customers worldwide, across +25 industries, Loftware is leading the way in developing innovative enterprise labeling solutions for the supply chain. This release is available at no charge to all customers with a current annual software support and maintenance agreement.
To learn more about LPS 10.1 SP1 and LLM 10.1 SP1, please visit http://www.loftware.com/products/printserver.cfm.
About Datamax-O'Neil
Datamax-O'Neil is a trusted global provider of stationary and portable label and receipt printing solution products that enable manufacturing and supply markets to capture the benefits of automated product identification and automated legal and financial transactions. Datamax-O'Neil is the barcode and mobile printing business company within Dover Corporation's Printing and Identification segment. The company's products address a wide variety of applications, including those in the industrial, healthcare, retail, automotive and ticketing market sectors. Datamax-O'Neil is headquartered in Orlando, Florida, and maintains key facilities in California, Illinois, and France, as well as sales and technical support offices around the world.
About Loftware
Loftware, Inc. is the global market leader in Enterprise Labeling Solutions with more than 5,000 customers in over 100 countries. Offering the industry's most comprehensive labeling solution, Loftware's enterprise software integrates SAP®, Oracle® and other enterprise applications to produce mission-critical barcode labels, documents, and RFID Smart tags across the supply chain. Loftware's design, native print, and built-in business rules functionality drives topline revenue, increases customer satisfaction, and maximizes supply chain efficiency for customers. With over 25 years of industry leadership, Loftware's enterprise labeling solutions and best practices enable leading companies to meet their customer-specific and regulatory requirements with unprecedented speed and agility.