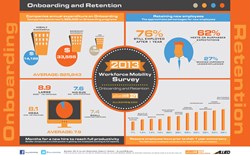 62% of human resource professionals indicate that all of their new employees go through an onboarding program
Chicago, Illinois (PRWEB) October 23, 2013
Allied Van Lines Inc., one of the world's largest moving companies and a subsidiary of SIRVA Worldwide Inc., announced findings of its third installment of its Allied HR IQ 2013 Workforce Mobility Survey. Research by Allied HR IQ showcases trends and insights into mobility issues facing human resource professionals today.
According to the newly released "Onboarding and Retention" section of the 2013 Allied Workforce Mobility Survey, 62% of human resource professionals indicate that all of their new employees go through an onboarding program. Another 22% indicate only a portion of their employees go through a formal program.
As it relates to effective onboarding, the research found the following results:

Companies with highly successful onboarding programs spend less than half than somewhat successful ones ($14,128 vs. $33,555)
51% of those companies who do have successful onboarding program are more apt to measure the productivity of their new employees.
As was measured in 2012, the average time it takes to get a new employee to become fully productive continues to be approximately 8 months, but in small companies, it may be slightly faster.
In terms of retention, companies indicate that 76% of the time, new employees stay after one year, 62% of them meet or surpass expectations for their job and 26% are identified as a corporate leader or influencer. While positive, the 62% is far short of the 85% industry average for employees who stay beyond one year.
When new employees do leave within a year, the following are the key reasons for why they leave:
36% due to a bad relationship with their manager.
33% found a better career opportunity outside the company
32% is due to poor job performance.
While these results are in line our 2012 results, "Quality of Workforce" dropped in its importance significantly, possibly indicating employees are becoming more focused on the merits of the job versus others who may work in the same or similar role.
For more information and downloadable infographic related to our telecommuting results as well as our 2012 Allied Mobility Survey, please visit our website at http://www.AlliedHRIQ.com.
About Allied Van Lines
Established in 1928, Allied Van Lines, with more than 400 agent locations in North America, is an experienced leader in household goods moving services. Allied is one of the world's largest moving companies and one of the established global brands of SIRVA, Inc., a leader in providing relocation services to corporations, consumers and governments around the world. For more information about Allied Van Lines, visit http://www.allied.com. Allied Van Lines, Inc., U.S. DOT No. 076235
About SIRVA Wordwide, Inc.
A leading worldwide provider of relocation and moving solutions, SIRVA Worldwide, Inc. (http://www.sirva.com) provides more than 230,000 relocations per year to corporations, government employees, and individual consumers through its family of companies. The Company delivers the best mobility experience at the lowest total cost to relocate through complete management of the global supply chain, the world's leading global operations, industry-leading risk management processes, and full accountability and transparency of costs. SIRVA's family of companies includes Allied, Allied International, Allied Pickfords, DJK Residential, Global, northAmerican, northAmerican International, SIRVA Mortgage, SIRVA Relocation, SIRVA Move Management, SIRVA Global Relocation and SIRVA Settlement.