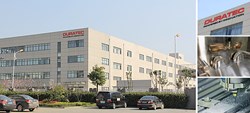 (PRWEB) October 23, 2013
DuratecPlastics.com is a well-known China injection molding factory, and its products and services include injection molding and assembly of plastic products. Today, the company announces its new website and launches a site-wide promotion.
The new site is updated to provide more information about the latest injection molding technologies and products for all customers worldwide. The company is also offering great discounts, up to 38% off, on all its products and services to deliver people great results at affordable rates. DuratecPlastics.com hopes to better serve its clients worldwide, and helps them to choose cost-effective molds prior to purchasing.
"There are too many injection molding suppliers in the world, and it is hard for customers to find an original injection molding factory. We will upload more information about our designs, and more photos and videos, to our website. The customers will benefit from this update," says Steven, CEO of the company.
DuratecPlastics.com serves both local and overseas customers that come from a wide range of industries like machinery, electronics, hardware, toys, consumer goods, medical instrument and more. In addition, premium quality custom molded products and plastic parts can also be purchased.
The company has its own in-house tooling department, equipped with a wide range of professional equipment including CNC, EDM, wire cutting, grinding and milling machines. With many years of experience in injection molding, the experienced and qualified engineers from DuratecPlastics.com are ready to help customers around the world to achieve what they need to.
DuratecPlastics.com is the website owned by Duratec Industries Ltd. that is devoted to plastic injection molding, and plastic product assembly. The company is located in Suzhou, which is a major tourist city in China and is considered as beautiful as the paradise. The company owns a modern manufacturing and warehousing facility as large as over 12,000 square meters. For more information, please visit http://www.duratecplastics.com/