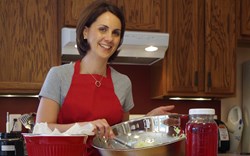 It really is a myth that cooking is hard or that we need to serve stuff out of cartons to save time, and I aim to prove it.
Bristow, VA (PRWEB) October 25, 2013
"Healthier for the Holidays" is the 6th in a series of acclaimed cooking courses offered in Bristow. The course teaches recipes and techniques for working with grass-fed and pastured meats alongside raw and superfood side dishes and gluten-free desserts, adding nutrition and flair to holiday meals.
"I specialize in helping people learn how to easily make food from scratch just like Grandma but in MUCH less time!" said Health Coach Amy Butchko. "It really is a myth that cooking is hard or that we need to serve stuff out of cartons to save time and effort, and I aim to prove it."
This session has an added feature including instruction for making handmade rubs and brines for meats that are organic and chemical-free. "Many people purchase an organic or grass-fed cut of meat and then cook it in a conventional way, have a bad experience and feel defeated. We'll discuss rubs, brines and cooking techniques that can help people avoid this common pitfall, and will send people home with a sample on the 17th. I love rubs because they are super simple to make and they bring out the flavor of pastured meats," said Amy.
In addition, this class will be entirely gluten free, and grain-free options will also be discussed. Amy also addresses audience questions and concerns, and tailors her interactive cooking demonstrations to meet the needs and interests of the attendees.
"Big meals at our house are always a little bit 'showy.' I like to make sure each dish has lots of color and flavor to create an experience," Amy said. "It doesn't have to be complicated, but it will be pretty, yummy and unbelievably good for you!"
The class is offered in Bristow, VA only once this season. Space is limited and previous courses have filled up quickly, so register now.
Class information
What: "Healthier for the Holidays" Cooking Class
When: Sunday, November 17, 3-4:30 p.m.
Where: Bristow, VA (see link for registration information and address)
Cost: $29 (bring a friend discount on registration page)
(Participants will get hands-on instruction along with handouts and printed recipes they can immediately use at home.)
Register by calling (703)791-9355 or use this link: sign up online.
About Wellness Works LLC
Wellness Works, LLC, founded by Amy Butchko in 2009, serves individual and corporate clients near her home in Northern Virginia and nationally via phone and Skype.
Originally trained as a health coach, Amy expanded her training to earn certifications as Natural Health Practitioner and Digestive Health Specialist. Amy also serves as Executive Director of the Wellness Education Association of America, a 501(c)4 not-for-profit organization dedicated to educating members in traditional ways to to eat better, reduce stress, increase energy and improve personal wellness.
In addition to cooking classes, Amy offers educational consultations and programs for natural wellness strategies to beat fatigue, get rid of bloating, detoxify and increase energy.* "Meet" Amy in this video: http://youtu.be/8UetcYm_7KE.
**These statements have not been evaluated by the FDA or any other regulating entity and are not to be construed as diagnosis, treatment or cure for any particular disease or malady. Interested parties should consult his or her physician before embarking upon any health practice that's new. Results achieved will vary from person to person.