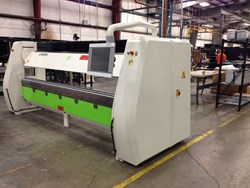 Jefferson County offers a business-friendly climate and a strategic mid-Atlantic location.
Jefferson County, WV (PRWEB) October 29, 2013
With the delivery this month of a customized Cidan door folding machine, Automated Merchandising Systems (AMS) of Jefferson County, W.V., becomes one of only a handful of U.S. manufacturers in the vending industry with a door folding machine boasting a rotating beam and two-sided tooling that allows for continuous folding without tool changes.
Combine this with the completion of a 26,000 square-foot expansion at its location in the Jefferson County Development Authority's (JCDA) Burr Business Park, guaranteed delivery system patents and some of the most competitive pricing in the industry and AMS is poised to capture the industry's soaring unlimited possibilities.
"AMS has always taken pride in providing a quality product with distinct innovative advantages at a reasonable price," said Sharon Shull, AMS President. "The investments we are making today are for the future of our company, employees, customers and community."
Manufactured by Petersen Machinery in Götene, Sweden, the Cidan folder allows for improved folding over traditional start-and-stop bending. The result is more consistent bending and a stronger and more attractive and durable vendor.
The Cidan joins another distinctive piece of equipment in AMS's 80,000-square-foot factory. AMS recently purchased a Finn-Power Shear Genius punch press. A "lights out" machine, the automated Shear Genius is one of just a few on the East Coast. Its right angle shear eliminates waste and scrap during the production process and can run non-stop with limited human intervention.
AMS's expansion has created 8-10 new jobs and along with the new equipment has allowed AMS to significantly increase production and efficiency. New individual work stations will allow multiple styles of vendors to be manufactured simultaneously as parts are shuttled between workers at stations rather than vice versa.
AMS manufactures three models of vendors that offer a plethora of custom configurations. Machines are built with state-of-the-art materials and technology, including the innovative cabinet design that uses insulating foam as a structural element. Vendors are designed to be rugged, reliable and reasonably priced. The interchangeability of parts means few spares are required to be stored and configurations can be changed quickly. All AMS vendors feature the patented Sensit® Guaranteed Delivery System.
Founded in 1997 by legendary vending industry innovator Roy Steeley and AMS President Sharon Shull, the privately owned AMS also has operations in Guadalajara, Mexico and employs approximately 100 people.
From its West Virginia location, just 45 minutes from Dulles airport and minutes from Interstate 81, AMS distributes its products internationally with 30 distributors in Australia, Canada, China, Ireland, New Zealand and the United Arab Emirates.
"Jefferson County offers a business-friendly climate and a strategic mid-Atlantic location," said John Reisenweber, Executive Director of the JCDA. "Our proximity to I-81 and Dulles Airport, coupled with the nation's fourth lowest cost of doing business, make us an attractive choice for companies with international distributors, such as AMS."
Located in the Burr Business Park, the JCDA provides an increased and diverse tax base for Jefferson County. The organization advances economic development, supports existing businesses and stimulates and promotes industrial, commercial and agricultural expansion.
Burr Business Park is a prime 380-acre small business development located between Charles Town and Martinsburg and is divided by the new four-lane Route 9, which connects to Interstate 81 and US 340. Forty shovel-ready lots are currently available with utilities provided to the property line. The park includes retail, public service, government, restaurant, commercial and industrial, and is home to nearly 60 businesses including AMS, Schonstedt Instrument Company and DALB, Inc.
-30-