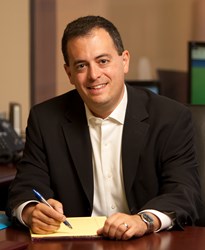 The release of proposed rules by the SEC is a monumental step forward," Frutkin says. "It finally moves the ball forward, permitting equity crowdfunding to be finally legal and implemented in 2014
Phoenix, Arizona (PRWEB) October 23, 2013
Although delayed for nearly a year, today the Securities and Exchange Commission unanimously approved the release of proposed equity crowdfunding rules. The proposed rules have been published and are available on the SEC website for public comments. The rules are part of the implementation of The JOBS Act, a 2012 law which legalized the opportunity for regular people to invest in local businesses without cumbersome regulations.
Attorney Jonathan Frutkin wrote the book "Equity Crowdfunding: Transforming Customers into Loyal Owners" which was published earlier this year. The book, available on Amazon.com, explains how this extraordinary opportunity will allow local businesses to generate new enthusiasm to accelerate their growth. Frutkin is Principal with The Frutkin Law Firm, PLC in Scottsdale, Arizona.
"The release of proposed rules by the SEC is a monumental step forward," Frutkin says. "It finally moves the ball forward, permitting equity crowdfunding to be finally legal and implemented in 2014."
Frutkin believes that the ability of regular people to own part of their local economy, rather than being limited to simply investing in large multi-national companies like Exxon and Apple will be transformative to communities.
"People have become far too disconnected from their investment dollars. Instead of driving Wall Street, their investment in Main Street will make their neighborhood a much more interesting place to live," Frutkin notes. "Now, at least some of their net worth will help their community flourish." Frutkin also emphasized that equity crowdfunding is not permitted yet, and any company looking at this type of financing should contact their legal counsel.
Frutkin has been active in the crowdfunding movement since The JOBS Act was passed last year. He is a frequent speaker and commentator on the future of crowdfunding finance.
About Jonathan Frutkin
Jonathan Frutkin is the CEO of Cricca Funding, LLC, a consultancy that works with profitable locally owned businesses to take advantage of equity crowdfunding. As an entrepreneur who has led companies in diverse areas including software, digital marketing, food service and real estate, he understands the unique challenges facing business owners. He has most recently been the managing partner of The Frutkin Law Firm, a leading law firm in Phoenix, where he has been recognized by AZ Business Magazine as one of the top business attorneys in Arizona.
About The Frutkin Law Firm
The Frutkin Law Firm, PLC was founded in 2007 by attorney Jonathan Frutkin with the goal of providing exceptional legal representation to clients throughout Arizona in business and corporate law and related areas, ranging from taxation and asset protection to estate planning. The Frutkin Law Firm helps businesses, individuals, and families in Phoenix and throughout Arizona with their corporate and business law, bankruptcy, taxation, asset protection, wills, trusts, and estates, and litigation needs. The firm has locations in downtown Phoenix and Scottsdale. For more information, visit http://www.frutkinlaw.com.