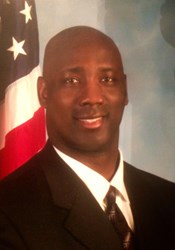 Northridge, CA (PRWEB) October 24, 2013
Contemporary Services Corporation (CSC), the world leader in crowd management and event security, announces that Chris Davis will serve as its Senior Vice President of Business Development. Mr. Davis recently completed a distinguished twenty-three year career as a Special Agent of the Federal Bureau of Investigation (FBI) where he developed expertise in counterterrorism, criminal investigations, strategic planning, crisis resolution, and tactical leadership of comprehensive security operations worldwide. Mr. Davis began his career with CSC in 1982 as an event staff employee while he was a student-athlete both at Purdue and San Diego State University. Following completion of his undergraduate academic requirements and prior to his acceptance into the FBI, Mr. Davis enjoyed a career in professional football as a member of the National Football League's New York Giants and the New England Patriots.
During his twenty-three year FBI career, Mr. Davis investigated a wide variety of matters and served in various leadership capacities. He developed and implemented security and contingency planning in support of the 2002 G-8 summit, Super Bowl XL, and Presidential, Secretary of State, and Attorney General delegation visits. Mr. Davis was also a Bureau-certified Defensive Tactics Instructor, Post Blast Bomb Investigator, General Police Instructor, and was collaterally involved in many of the FBI's most significant counterterrorism investigations. Mr. Davis was a member of the FBI's Executive Management Special Events Security planning and preparedness teams for events including five NFL Super Bowls, two Presidential National Conventions, NBA Finals, NBA All Star Game and Weekend, World Series, G-8 Summit, and the 2012 Salt Lake City Winter Olympic Games, where he served as the FBI Sector Commander. Mr. Davis has received numerous Incentive Awards and letters of commendation for his investigative and managerial accomplishments and for his dedicated work with underprivileged children. Mr. Davis is a member of the National Organization of Black Law Enforcement Executives (NOBLE), the American Society of Industrial Security (ASIS), and the NFL Alumni.
About Contemporary Services Corporation
Contemporary Services Corporation (CSC) is the world leader in crowd management and event security for the entertainment and sporting event industries. Throughout its 46 years of experience, CSC has garnered a loyal and esteemed client base, including more than 100 stadiums and arenas, over 100 universities and colleges, more than 20 convention centers, and numerous clients within the professional ranks of MLB, MLS, NBA, NFL, NHL, and NASCAR. CSC has also provided services for the world's most prestigious special events, including Collegiate Bowl Games, NCAA Final Four Tournaments, PGA Tournaments, US Open Tennis, 30 Super Bowls, 8 Olympic Games, 4 Presidential Inaugurations, 2 Papal visits, and 2 FIFA World Cups. CSC operates more than 50 branch locations throughout the United States and Canada.