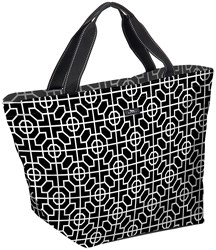 These Scout styles are perfect for upcoming winter vacations and excellent holiday gifts for everyone on your list.
Miami, FL (PRWEB) October 24, 2013
Arrive Chic, the hottest trend in modern travel accessories, has chosen to add Scout by Bungalow to their e-boutique in time for the holiday season. Scout by Bungalow, founded in 2004, offers a collection of affordable, functional, and fashionable travel accessories and totes. The Arrive Chic e-boutique offers a variety of travel essentials, perfect for the stylish traveler. Arrive Chic offers luggage, travel bags, beauty products, accessories, and gifts. Stylish travel bags are available in many sizes and colors to fit the needs of every traveler. The Scout collection on ArriveChic.com adds to their mix with bright weekenders, extra large tote bags, cosmetic bags, and garment bags.
"We are thrilled to have these smart, fun, travel bags at a competitive price just in time for the holiday season. These Scout styles are perfect for upcoming winter vacations and excellent holiday gifts for everyone on your list," says owner Ashley Vaccarino.
Some of the styles included in the Scout by Bungalow collection on ArriveChic.com are:
1. Less is Moorish Weekender - this extra large shoulder tote in a black & white print with top zip closure folds flat for easy packing as an extra travel bag, retail $50
2. Getting' Dot In Here Garmentote - this women's garment bag has top & bottom handles, is 38" long, and comes in a bright pink & orange print and protects clothes fashionably while en route, retail $28
3. The Real House Weaves Packin' Heat Cosmetic Bag - a water-resistant zip top cosmetic bag in khaki & pink stripe which stores all of your beauty supplies in one place, retail $17
4. Some LIke It Dot Crown Jewels Cosmetic Bag - a small, water-resistant make-up bag in blue & white print that is sized right for your handbag, retail $15
Scout by Bungalow joins other big names carried at Arrive Chic including Trina Turk, Felix Rey, Jonathan Adler, Marvis, and Supergoop! For more information or to purchase Scout by Bungalow products visit arrivechic.com. All purchases over $100 receive free ground shipping.
About Arrive Chic
Arrive Chic (http://arrivechic.com/) was born to provide one-stop online shopping for fashion-forward jet-setters. With a buying background from Barneys New York and Saks Fifth Avenue, and a fully stamped passport, owner Ashley Vaccarino saw this business as her calling. Unlike many other travel goods websites, Arrive Chic offers only stylish travel products, as they believe form is just as important as function. Travel handbags and accessories are obvious must-haves for any trip; but the true traveling diva needs to look fabulous head to toe, no matter where she is. Therefore, they also offer travel-friendly jewelry, beauty products, and (arriving soon) comfortable & chic shoes and clothing. Arrive Chic can also be found at facebook.com/arrivechic, pinterest.com/arrivechic, on twitter @arrivechic, and on instagram @arrivechic.