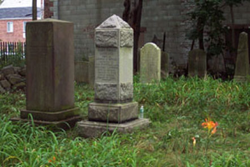 There are two things that have always haunted me: the brutality of the European traders and the stories I've heard about Africans selling other Africans into slavery.-- Henry Louis Gates
(PRWEB) October 31, 2013
AncestorEbooks, a website dedicated to creation of personal Ebooks using videos, mp3, pictures and documents, announces two upcoming events at Lawrence Cemetery on the first 2 Saturdays in November. The Bayside Historical Society is hosting both of the upcoming events at Lawrence Cemetery in Bayside, NY. [bit.ly/1dbxh17]
The Lawrence Cemetery was a favorite picnic area called "Pine Grove". There were 137 burials that took place between 1832 and 1925; the most well known residents were, Cornelius Van Wyck Lawrence, Mayor of the City of New York from 1834 to 1837, County Judge Effingham Lawrence, Colonel Frederick Newbold Lawrence who served in the Civil War, and Mary Nicolls Lawrence, second wife of Mayor Andrew H. Mickle of the City of New York. [bit.ly/1chRj9c]
The first event, held on November 2, will be hosted jointly between the Bayside Historical Society and the Long Island Seekers Club. The members of the Long Island Seekers Club will guide participants of this event through a live investigation of paranormal activity at this historical cemetery located in a wooded area on the corner of 216 Street and 42 Avenue. A discussion about tools and techniques used during a paranormal investigation will be included during this 2 hour-long event. [bit.ly/HcKV8W]
One week later, on November 9, the Bayside Historical Society will host a special event at the Lawrence Cemetery. which will have actors portraying individuals from Bayside's "founding families." One such celebrity, Cornelius Van Wyke Lawrence, was the first popularly elected mayor of Bayside and is buried at Lawrence Cemetery along with others.
These events are being held in a cemetery that joins other historical societies such as the Historical Congressional Cemetery. Participants in the annual Halloween party called The Historical Congressional Cemetery's Ghosts and Goblets Event, are long term "residents" such as Mary Ann Hall, who owned a brothel during the Civil War era, and composer John Philip Sousa, will come 'alive' to tell their stories. Other ghosts, who will 'rise' to tell their tales, will include congressmen, composers, and murder victims.
"I believe most Americans understand that only the mortal remains are buried in cemeteries, however it can be comforting to family members to have somewhere to visit and remember special people in their lives." Stated Cristina Besendorfer of AncestorEbooks.com. "It has become popular in the past few years for people to search for ghosts, spirits, and demons in ancient cemeteries, and I believe there are evil spirits and influences in the world. That said, I think that anyone who seeks evil for the fun or thrill of it will find more than they bargained for."