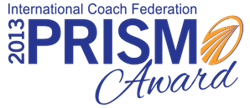 Coaching at Microsoft is shifting leaders from transactional to transformational.
(PRWEB) October 25, 2013
The three coaching programs nominated for this year's award were evaluated according to four criteria: fulfilling rigorous professional standards, aligning with key strategic goals, yielding measurable results, and sustaining coaching within the organization.
Microsoft's Coaching Program for High Potential Leaders demonstrates how organizational goals, strategic priorities and workplace needs are being addressed through coaching. Microsoft is committed to developing high potential leaders. Executives describe the "high potential" talent as the "work engine of our company, the experts – the ones willing to take a risk."
The current coaching program for high potential leaders started in 2008 and continues to this day. 1,800 high potential leaders around the world have received coaching during the past five years. The ongoing goal is to shift leaders from the transactional to the transformational – to challenge business leaders to move away from their "expertise" to have a broader impact as a transformational leader.
Carol Hedly, Denise Novosel, Sally Dewitt and Anne Schlosser accepted the award for Microsoft. Joining them were Brian Underhill and Maté Rivera-Uribe of CoachSource.
Maté Rivera-Uribe, PCC, of CoachSource, LLC was the nominating coach for Microsoft. Maté is an Executive Leadership Coach with a Masters in Psychology and a Certificate in Human Resource Management from University of Washington.
CoachSource, LLC is a leadership coaching company with business coaching professionals in major business markets around the world. CoachSource provides a global solution to meet complex leadership coaching challenges.
ICF Global adopted the Prism Award in 2005 to recognize organizations that demonstrate how professional coaching benefits both people and results. This year saw the inaugural award from the ICF WA State Chapter, which will continue presenting this award annually to organizations in Washington.
About ICF Washington State
ICF Washington State is a Charter Chapter of the International Coach Federation formed in 1998. As a coaching community, ICF Washington State is committed to service with excellence, leading for transformative change and inspiring action that can be carried through with ease. Coaches foster collaboration for the future across the region within business organizations, education and government.
More information about the Prism Award and the local ICF Washington State Chapter is available at ICF WA State Prism Award.
Thank you to Diamond Event Sponsor inviteChange and Ruby Event Sponsor ASTD Puget Sound.