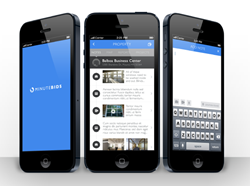 Our ability to create customized report templates, store the data and issue the reports from the property, saved us a lot of time. - Todd Balsiger, CPM, CCIM, Vice President, Group Manager of Jones Lang LaSalle
Minneapolis, MN (PRWEB) October 28, 2013
MinuteBids Inc., a Minneapolis-based technology company today announced that MinuteBids Mobile is now available on Apple's App Store. MinuteBids Mobile is a free on-premises property inspection and reporting application for MinuteBids registered property managers.
"Our property managers have been asking for more tools to help them improve their efficiencies. It was determined as property managers are spending more time out of their offices and on their mobile devices, an on-premises property inspection application was the logical choice," said Cory Factor, MinuteBids' chief executive officer. "Several mobile applications for property inspections exist today but they are cost prohibitive, property management companies can pay several hundred dollars a year per user for these services. MinuteBids Mobile is being offered as a no charge application for our registered property managers. It is tied directly to their property files on MinuteBids."
"Jones Lang LaSalle in Minneapolis beta tested MinuteBids Mobile earlier this year," said Todd Balsiger, CPM, CCIM, Vice President, Group Manager of Jones Lang LaSalle. "Our ability to create customized report templates, store the data and issue the reports from the property, saved us a lot of time and the bids generated from this process saved our owners a great deal of money. It's a great addition to MinuteBids' list of products and features"
MinuteBids Mobile is an easy-to-use application for all MinuteBids' property managers. It allows them to create reports, save photos, geocode property issues and review all the projects and properties on their MinuteBids account while out of their office. It is currently available on Apple's App store.
MinuteBids' focus continues to be growing its database of registered property managers and service providers across a broad base of services.
About MinuteBids
MinuteBids, available in over twenty markets, is a two-sided online marketplace that enables property managers and local service providers to conduct business. MinuteBids' primary service allows property managers to define projects and to be matched to quality service providers in their area, GroupBids™ enables proximity based property managers to leverage their buying power and MinuteBids Corporate allows large organizations enterprise-wide collaboration. MinuteBids Mobile allows property managers to create reports, take photos and make notes on-premises and saved to their MinuteBids property files. MinuteBids continues to add the features and products property managers and service providers need to run their businesses more successfully. For more information, visit http://www.minutebids.com.