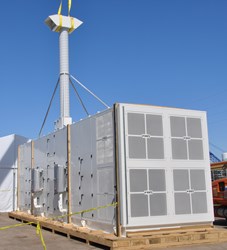 CAPS successfully operated the unit well beyond the 131°F (55°C) ambient design condition while maintaining 100% capacity.
Houston, TX (PRWEB) October 29, 2013
Custom Air Products & Services, Inc. (CAPS), a leading commercial and industrial HVAC company based in Houston, Texas (USA) has announced the completed production, testing and receipt of 3rd party NRTL certification from ETL for the largest Process Analytical HVAC unit being designed and built for the Sadara Chemical Company (Sadara). Sadara is a joint venture
between Saudi Arabian Oil Company (Saudi Aramco) and the The Dow Chemical Company (Dow) in Saudi Arabia.
CAPS' scope of work for this custom HVAC solution included a dual 30 ton high ambient package unit, integrated Siemens PLC controls, 100% stainless steel housing construction, EnergyGuard corrosive coatings, flame-proof electrical construction—to meet the site's Class 1, Zone 2 IIB + H2, T3 rating—along with temperature and humidity controls to serve one of the Sadara complex's Process Analytical Measurement Centers (PAMCs) in the Polyethylene Unit.
This project is part of a world-scale, fully integrated chemicals complex currently being built by Sadara in Jubail Industrial City in Saudi Arabia. Comprised of 26 manufacturing units, the complex will be one of the world's largest integrated chemical facilities, and the largest ever built in a single phase. First production units are expected to come on line in the second half of 2015, with all units up and running in 2016. Custom Air Products & Services is the exclusive provider for all the custom HVAC units serving the Sadara process analytical buildings and enclosures throughout the complex.
In making the announcement, Custom Air Products & Services' vice president Dave Wasson said, "We are excited to have designed, engineered and successfully certified by ETL the largest HVAC unit to date for the Sadara project. The Polyethylene plant's interior PAMC temperature and humidity specifications were among the most stringent in the Sadara complex and must be maintained 24/7/365. This unit is designed to meet or exceed the required design specifications as documented during the recent customer factory acceptance test (FAT). CAPS successfully operated the unit well beyond the 131°F (55°C) ambient design condition while maintaining 100% capacity."
About Custom Air Products & Services
Custom Air Products & Services, Inc. is a full-service HVAC company that specializes in the design, construction, installation, modification, and servicing of industrial and commercial air conditioning equipment. CAPS employees are committed to providing exceptional custom design and quality workmanship at competitive prices.
Custom Air Products & Services currently occupies four modern facilities, totaling 150,000 square feet in size. These buildings include administrative and engineering offices, training facilities, a filter warehouse, and service shops for fabrication, manufacturing, and modifications. CAPS services are provided to customers throughout the United States and Mexico while their manufactured products have been delivered to sites around the world.
For more information, contact Custom Air Products at 713.460.9009 or visit them on the web at http://www.customairproducts.com.
###
If you'd like more information about this topic, please call Bea Amaya at 713.460.9009 or email her at bea.amaya(at)customairproducts(dot)com.