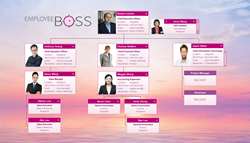 The HR Big Data revolution is here and we're excited to be leading the charge.
Singapore (PRWEB) October 28, 2013
HRBoss (http://www.hrboss.com), the Asia-based innovation leader in HR and recruiting SaaS solutions, today announced the launch of EmployeeBoss, their Big Data solution designed specifically for HR. EmployeeBoss is a new workforce analytics application providing HR and C-suite leaders with deep data-driven insights into their organization's performance and supercharging ROI on their most valuable investment: human capital. Delivered as a turnkey Cloud-based subscription solution for global businesses, EmployeeBoss delivers people-insight in an intuitive and highly-visual environment. Notably, it showcases the first dynamic HTML 5 (Mobile optimized) organizational chart views to deliver an elegant and fresh user experience.
Bernie Schiemer, HRBoss CEO and Founder today commented, "EmployeeBoss aggregates all your employee data from existing HR and business systems into one single overview. With embedded Business Intelligence, real-time analytics and a powerful reporting engine, you can create visibility across your employee landscape by building multi-dimensional organization overviews." Schiemer added, "The great part of EmployeeBoss is that it fits around all your existing processes so that you can make a measurable and tangible impact on your business without having to change a single process internally. EmployeeBoss is about so much more than just dashboards and data; it's about providing insights on previously unseen data that will change the way you see your organization."
Schiemer continued, "The topic of HR Big Data has an undeniable buzz about it, but what does it really mean? HR Departments have many different priorities and challenges, but nearly all are frustrated with their inability to obtain timely and accurate reports from all of the employee data they manage. We can change this and fast, without blowing out their budgets".
Schiemer added, "We have kept the user experience at the forefront of our mind when designing EmployeeBoss, and the result is a highly-visual environment that CEOs and HR Directors will love to use. We're particularly excited by the dynamic organizational charts - finally, you can enjoy a helicopter view of your entire organization, which you can telescope in on by region, function, legal entity or by business unit. You can slice or dice reports, or build dashboards specific to your needs. With the new workforce planning module, you are able to build scenarios months or years in advance and gain greater insight into the challenges that lay ahead. The HR Big Data revolution is here and we're excited to be leading the charge".
This latest product launch punctuates a period of high-growth for HRBoss, following news of their recent corporate rebrand, strategic acquisitions and penetration of the staffing/recruiting agency CRM market. EmployeeBoss joins the 3 existing HRBoss solution: the award-winning applicant tracking solution-HiringBoss, the recruiting agency CRM solution–StaffingBoss, and the social sourcing tool- CandidateBoss.
Market need:
HR Departments have many workforce-related IT systems in multiple locations. These consist of large disconnected systems (HRIS / Payroll) through to spreadsheets and simple text docs. They are unable to aggregate this data together, causing many issues with the internal BI and analytics teams when it comes to reporting. Over 90% of companies do not have an on-demand organizational chart, so viewing org structures has to be a manual exercise that, given the daily changes in their workforce, is a constant game of catch-up whenever staff join or leave. Alternatively, they are required to implement complex enterprise talent management solutions for excessive $$$$, incurring lots of change (plus the inherent risks associated with this change) and pain to get a consolidated view of their employee data.
How EmployeeBoss works:
1st- Using an intuitive user interface, map organisational structure to the back end of EmployeeBoss (Includes all legal entities / departments / locations / functions / levels, etc)
2nd- Aggregate/feed all employee data into 1 place- the EmployeeBoss platform- from unlimited HRIS, payroll, TMS, raw data, spreadsheets & other data sources.
3rd- Choose Dashboards & Reports, or create new dashboards from scratch. Select drill-down dimensions from the EmployeeBoss market leading analytical toolset.
4th- EmployeeBoss will create a dynamic organizational chart of the entire company from the information imported into the system. The user then configures what information can be viewed in this chart, including drill-down analysis.
5th – Once complete, the user can view your data across virtually any dynamic/dimension, allowing for slice and dice reporting across geographical location | legal entity | function | business units.
Setup and configuration is then 4~8 weeks, depending on the amount of data to be aggregated. Watch the video here.
About EmployeeBoss
Data is pulled from unlimited customer systems ranging from core HRIS applications, such as payroll and training, through to simple spreadsheets. After the information is initially loaded, a holistic HR data system is in place that can deliver wide-reaching workforce insights in an instant.
With all HR Big Data sources being integrated on to a single platform, business leaders can leverage comparative analysis and predictive modeling for critical workforce decisions. This can be used strategically in predictive modeling of workforce behavior, such as identifying future recruitment needs or tracking succession, promotion, and turnover patterns.
The expansive amount of data available will surface insights on the strengths and weaknesses in training programs and sales processes, alert management to potential flight risks of top talent and highlight 'outliers' in employee compensation. Companies use these data insights to analyze and collaborate on plans to optimize the workforce and to align the people strategy with the business strategy.
About HRBoss
HRBoss is the fastest growing HR & Recruiting software company in Asia. Founded in 2011, HRBoss is rapidly expanding its footprint across Asia with offices currently open in 7 countries today (Singapore, Japan, Vietnam, Indonesia, China, Malaysia and Hong Kong) with more to follow. All of our Cloud solutions are intuitive, highly-configurable and are supported locally on-the-ground where you are. In 2013, HRBoss has experienced rocketing growth, adding over 10,000 new users from all industries, from local start-ups and government agencies through to industry leaders, including Mitsubishi Fuso, Danone and the Monetary Authority of Singapore (MAS) The HRBoss founding team consists of some of the most sought after talent in the industry, with experience that takes in SAP, Oracle, Hays, Lumesse, Accenture and Michael Page International.
.