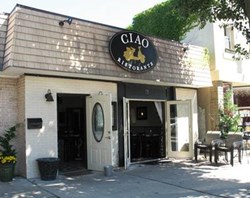 Allenhurst, NJ (PRWEB) October 28, 2013
From fixing meals for prestigious political figures to owning a sophisticated Italian restaurant, Mitchell Shenker, new owner of Ciao Ristorante located in Long Branch, New Jersey has lived every chef's dream. Serving only the best at top New York City restaurants, he used his culinary knowledge and experience to open his own restaurant at the Jersey Shore. Now he is preparing and presenting elegant dishes giving customers a dining experience to remember.
Before his impressive career took flight, Shenker studied at Boston University working towards a future in Real Estate. "I got into the corporate end of the business and then I developed a huge passion for food and wine." said Shenker. It was then that he realized that he couldn't ignore his passion for cooking. He then attended the French Culinary Institute which led him to the food and wine opportunities of a lifetime.
Shenker's lengthy resume includes positions in upscale Manhattan, New York eateries under notable chef's Eric Lagrange of Park Bistro and Marcus Samuelson of Aquavit. He also became the executive chef of New York University where he had the pleasure of preparing dinners for elite guests such as President Bill Clinton, Associate Justice of the Supreme Court of the United States Ruth Bader Ginsberg, billionaire and Wall Street Businessman Larry Tisch, professional baseball player Juan Perez, and business investor George Soros.
His growing success encouraged him to open Ciao Ristorante. "I worked at a lot of places," said Shenker. I decided that I didn't want to do that anymore and I wanted to go in business for myself." Residing in New Jersey for the past ten years, he bravely chose a location at the crippled Jersey Shore only four months after Hurricane Sandy made its mark. "It was a pretty gutsy thing to do," said Shenker. "I was able to open this business without taking on any debt. It was a combination of what I was looking for."
Using only the freshest ingredients, everything in the restaurant, with the exception of the bread is made from scratch. "We buy from local farmers," said Shenker. "Everything tastes so much better when it's local and fresh. That's how we try to separate ourselves." The restaurant's base menu changes seasonally containing at least three or four specials a day. "Our goal is to cook sophisticated New York quality food and do away with traditional Italian dishes," said Shenker. "I learned a lot about food when I worked for the other restaurants. I'm trying to elevate the quality of the food and present it interestingly and still make sure there is a ring to the classic combinations."
Despite his extensive background, like most business owners, Shenker understands how competitive the industry is. "The restaurant is small and there is a lot of pressure from Pier Village and competitors," said Shenker. "Experience, opportunity and life gives me a little bit of a competitive advantage." He admits that the media and enhancements in technology make it difficult as well. "Being in business for yourself is hard," said Shenker. "Social media and the internet have made people's opinions much known whether they like you or they don't like you. Do we succeed all the time? No we don't, but we try to make sure that every customer has a good experience."
With little room for entertainment and no liquor license, the culinary guru has found other ways to please customers that are rarely seen in other restaurants. Shenker gives all of his employees' authority to do whatever they need to in order to ensure a customer's happiness if they see a guest not completely satisfied, which may include a complimentary meal or dessert. "Everyone that works here is empowered to make that customer happy," said Shenker. "Not everything has to go through me. If the dishwasher sees a customer disappointed with their meal, then they can do whatever they can to make that person happy."
Believing that it takes two or three years to establish a solid customer base, Ciao Ristorante always has a different crowd every night of the week. Many people utilize the Wi-Fi access and hold business meetings there or a couple may come in for an anniversary and stay all night. "At the end of the day, if I believe that this business is going to work I have to be true to that," said Shenker.
While he is still waiting on a famous name to walk through his restaurant doors, Shenker would love to prepare a meal for New Jersey Governor Chris Christie. "He can have his meal for free!"
Ciao Ristorante is located at 75 Brighton Ave, Long Branch. NJ. They are open for dinner on weeknights and all day on weekends starting at 11:30 am. They are closed on Mondays. Specials vary each week and a $26 price fixed menu is offered Tuesday through Thursday and Sundays before six o'clock. Reservations are accepted and alcohol is BYOB only. Visit their website for more on their menu http://www.ciaonj.com/.
About Bielat Santore & Company
Bielat Santore & Company is an established commercial real estate firm. The company's expertise lies chiefly within the restaurant and hospitality industry, specializing in the sale of restaurants and other food and beverage real estate businesses. Since 1978, the principals of Bielat Santore & Company, Barry Bielat and Richard Santore, have sold more restaurants and similar type properties in New Jersey than any other real estate company. Furthermore, the firm has secured in excess of $500,000,000 in financing to facilitate these transactions. Visit the company's website, http://www.123bsc.com for the latest in new listings, property searches, available land, market data, financing trends, RSS feeds, press releases and more.