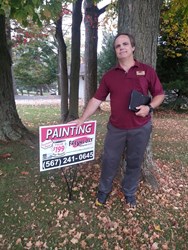 Mansfield, OH (PRWEB) November 01, 2013
Steve Hopkins is looking forward to bringing a new standard of customer service to his community with his new business – Fresh Coat Painters of Mansfield.
Fresh Coat Painters of Mansfield offers residential and commercial painting services including interior and exterior painting, wood staining and finishing, and other services for nearly every protective coating application. They use quality, environmentally safe materials and are committed to great customer experiences with services like 24/7 access and free touch-ups.
"When I was first looking into opening my own Fresh Coat franchise, I did some research and had my niece call six painting companies in the area. Three never called back, one we had to track down, one took a month to get us a quote and one promised a detailed quote we never received," he said. "Fresh Coat of Mansfield is different. We are prompt, courteous and will provide a real, itemized detailed quote. We're committed to great customer service."
Fresh Coat was founded in 2004 as part of Strategic Franchising Systems, which has more than 20 years of franchise experience. In the last year, Fresh Coat has been included in the Bond's Top 100 and named to Entrepreneur Magazine's Franchise 500 list. Fresh Coat also is part of the International Franchise Association, the Small Business Association's Franchise Registry, VetFran and Minority Fran.
Hopkins, an active volunteer with a variety of Christian ministries, is also looking forward to working with homeowners one-on-one to address their painting needs without all the stress.
"Before opening Fresh Coat, I was under so much stress at my former job that I could barely go to sleep on Sunday nights and I spent all my evenings worrying. I don't want any homeowner or business owners to have to feel that way about a painting job. Our operators are available 24/7 so you can make an appointment anytime or easily book through our website," Hopkins said.
"We'll be there when we promise, the job will be done on time and we'll walk through to make sure you're happy," he added.
To learn more about what Fresh Coat Painters of Mansfield can do for your home or business, call (567)241-0645, email shopkins (at) freshcoatpainters (dot) com or visit http://www.FreshCoatMansfieldOH.com.