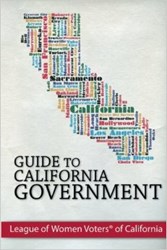 The Guide to California Government is thorough, non-partisan, easy to read road map for navigating the often complicated process for voting and engaging with our government. -Heather Smith, President, Rock the Vote
Sacramento, CA (PRWEB) November 06, 2013
The League of Women Voters of California has published the 15th edition of the Guide to California Government (G2CG) designed to educate and engage readers by emphasizing the public's role in voting and government.
This reference book uses infographics and icons to explain:

Voting and elections logistics
The initiative system
Levels of government
State finances
The education system
How to contact your government
This unique book is ideal for new voters, students and election experts. The book is available on Amazon.com and through Lightning Source for book distributors. Community organizations and schools interested in ordering more than 25 copies of the G2CG can contact the League of Women Voters of California for a bulk discount.
Early reviews of the book applaud the League's nonpartisan and clear explanations of complex government in California:
"The League of Women Voters of California has done it again. The Guide to California Government is thorough, non-partisan, easy to read road map for navigating the often complicated process for voting and engaging with our government. We look forward to using this amazing resource in Rock the Vote's work engaging California's citizens." -Heather Smith, President, Rock the Vote
"Who better than the League of Women Voters to explain California government to us? They themselves are a great example of how to combine grassroots groups with Sacramento lobbying to change policy!" -Jan Masaoka, CEO, California Association of Nonprofits
"As someone who registers and mobilizes thousands of college students to engage at the polls, I look forward to utilizing the Guide to California Government in order to best educate college-age voters. The information is brief, relevant and easy to understand." -Miles Jason Nevin, Executive Director, California State Student Association (CSSA)
Read more reviews.
The League of Women Voters, a nonpartisan political organization, encourages informed and active participation in government, works to increase understanding of major public policy issues, and influences public policy through education and advocacy. Membership in the League is open to men and women of all ages. With more than 90 years of experience, the League is one of America's most trusted grassroots organizations. Read more about the League of Women Voters of California.