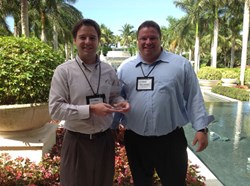 Customer service will always be our number one priority at R2 Logistics!
Jacksonville, FL (PRWEB) October 30, 2013
R2 Logistics, Inc., a third party logistics provider, today announced their reception of The Scotts Truckload Business Partner Excellence Award for 2013. This is the second year in a row R2 Logistics has received this honor. The Scotts Company, headquartered in Marysville, Ohio, manufactures branded consumer products for lawn and garden care, and also provides products for professional horticulture.
Frank Dreischarf, Manager of Global Logistics, announced the award on October 22, 2013 at the Scotts Distribution Conference held in Bonita Springs, Florida at the Hyatt Beach Resort Golf Club and Spa. Accepting the award was R2 Logistics' Vice President of Sales, Ben Jordan, and Rob Kuhar, R2 Logistics' Columbus Branch Manager.
Criteria for the award were based around the following areas of business partnership: Service, Cost, and Collaboration. Matt Elsass, R2 Logistics' VP of Operations, said, "Receiving this award from such an outstanding organization as The Scotts Company is a tremendous honor. The R2 staff takes great pride in our core fundamentals: customer service, communication, honesty and commitment. Through living these values with every shipment, R2 and Scotts have fostered what a shipper/carrier relationship should be. We can't wait to build that bond even stronger in the coming year."
Kuhar also credited the R2 employees by saying, "The Scotts team, led by Brian Woolum, did another phenomenal job this year. I believe their attention to detail, commitment to excellent service and proactive communication approach brought the hardware to R2 again this year." R2 Logistics' President and CEO, Ben Gase, followed suit by exclaiming, "This is a special recognition to all the Scotts team located in our Columbus, Ohio branch! We are very proud to be awarded again by Scotts for exceptional customer service. Customer service will always be our number one priority at R2 Logistics!"
About R2 Logistics, Inc.
R2 Logistics, Inc. is a third-party Logistics Company headquartered in Jacksonville, Florida. The company works with over 25,000 transportation providers nationwide. R2 Logistics delivers industry-leading services through five primary operating branches. These branches focus primarily on full truckload transportation, as well as services including expedited freight, less-than-truckload (LTL), intermodal, certified hazardous material, specialized hauling and supply chain management. For more information about R2 Logistics, visit http://www.r2logisticsteam.com.