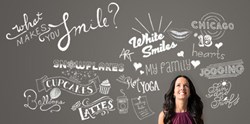 Chicago, IL (PRWEB) November 04, 2013
Chicago cosmetic dentist Jessica Emery, founder and owner of Sugar Fix Dental Loft, announced that the practice will be launching an ambitious, multi-tiered marketing campaign entitled "What Makes You Smile." The campaign will combine various social media platforms and a professionally produced series of videos to engage both current and prospective patients, as well as to spread the Sugar Fix Dental brand.
One of the primary goals of the campaign is to promote interaction between the public and the practice through hashtag categorization. People are encouraged to share what makes them smile by uploading photos and short videos to Instagram with the tags #makemesmile @sugarfixdentalloft.
The "What Makes You Smile" theme will extend across all of the practice's promotional materials and branding efforts throughout 2014. A series of videos will be released under the "What Makes You Smile" banner beginning on January 1, 2014, including:

"What Makes Dr. Emery Smile" - a new biographical video focusing on Dr. Emery's life and career
"Chicago Cosmetic Dentistry Makes Me Smile" - a video highlighting such treatments as porcelain veneers, teeth whitening, and Invisalign®
"CAD/CAM Dentistry Makes Me Smile" - a feature on same-day restorative dentistry treatments that use computer-aided design/computer-aided manufacturing technology
"Chicago Conscious Sedation Dentistry Makes Me Smile" - an educational video that delves into the benefits of oral conscious sedation
"One of the most universal characteristics of human beings around the globe is a love of smiling," states Dr. Emery in explaining the campaign. "A smile is something that everyone understands and can relate to. A beautiful smile is contagious, and we want to give people a chance not only to show off their smiles, but to share their reasons for smiling."
Dr. Emery pauses to smile, herself. "It's a twist on the concept of viral marketing. We're literally spreading beautiful smiles, person to person."
Although Sugar Fix Dental Loft is located in Chicago, people throughout the country and around the globe are encouraged to participate in the "What Makes You Smile" Instagram campaign.
About Sugar Fix Dental Loft
Sugar Fix Dental Loft was established by Dr. Jessica Emery as a fun, relaxing variation on the traditional dental practice. The office combines the feel of a spa and a variety of amenities with advanced technologies, including digital x-rays and dental lasers. A comprehensive range of cosmetic, restorative, and general dentistry treatments are available, including porcelain veneers, dental implants, crowns and bridges, and smile makeovers. Dr. Emery is certified to provide Invisalign®, BOTOX® Cosmetic, and Restylane® injections.
A graduate of Susquehanna University, Dr. Emery earned her D.M.D. degree from Tufts University School of Dental Medicine, following in the footsteps of her mother. She has received advanced training from several prestigious institutions, including the world-famous Las Vegas Institute for Advanced Dental Studies.
Along with Dr. Emery, the Sugar Fix Dental team comprises practice manager Amy DeLassus and clinical assistant Laney Judson.
Further information about Sugar Fix Dental Loft and the "What Makes You Smile" campaign can be obtained by visiting the practice website at http://www.sugarfixdental.com or by contacting the practice at:
Sugar Fix Dental Loft
3346 N Paulina St
Chicago, IL 60657-1038
(773) 883-1818
Originally posted by Sugar Fix Dental Loft