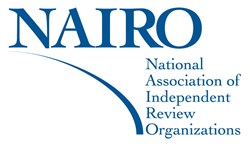 Health plans are looking to focus on their core competencies and outsource whatever tasks they can achieve at a lower cost to other organizations. - Andrew Rowe, President of NAIRO
Portland, OR (PRWEB) October 30, 2013
In response to changes taking place in the health insurance marketplace, including those ushered in by the Patient Protection and Affordable Care Act (ACA), the National Association of Independent Review Organizations (NAIRO) announces the release of a new Issue Brief exploring a key trend among business partners.
The Issue Brief, "As Health Plans Outsource Operations, Independent Review Organizations (IROs) Step In to Fulfill Key Duties," examines the emerging role of IROs as a resource for health plans seeking high-quality, cost-effective business partners.
"Health plans are looking to focus on their core competencies and outsource whatever tasks they can achieve at a lower cost to other organizations," said Andrew Rowe, President of NAIRO.
The Issue Brief provides a closer look at the changing business operations and workflow procedures of health insurance providers, and the key support that IROs are providing as health plans, seek to adapt to the new dynamics present in today's cost-sensitive atmosphere.
"Now more than ever, health insurers are outsourcing time- and cost-intensive business operations, such as first level physician reviews and internal appeals, to vendors that specialize in these domains," said Rowe. "The notion of taking these reviews and outsourcing them to URAC-accredited IROs is something that health plans are increasingly embracing."
For health plans, one of the key provisions driving change within the ACA is the rule known as Medical Loss Ratio (MLR), which requires insurers to spend a certain percentage of their premium revenues on clinical services and quality improvement. Because IROs maintain a staff of independent review specialists, they are a fitting complement to the outsourcing needs of health plans.
With a history of providing high-quality, conflict-free claim review services, IROs have emerged as a natural partner for health plans seeking to streamline their operating procedures and partner with a specialized entity that can provide an appropriate level of review services at a more affordable price.
The full Issue Brief is available here: http://nairo.org/news.php.
About NAIRO
The National Association of Independent Review Organizations (NAIRO) was formed by the majority of URAC-accredited independent review organizations (IRO). The need for uniform regulations from state to state and a uniform application process is what brought NAIRO together. The primary objective of NAIRO is to simplify the regulated independent review organization application process and independent medical peer review requirements among the states.