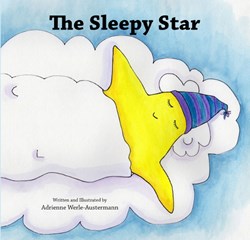 A must read for young and the not so young!
New York, New York (PRWEB) November 01, 2013
A story 20 years in the making, The Sleepy Star is now available on Amazon.com and Barnesandnoble.com. The charming hardcover children's bedtime book is designed to help parents foster a positive bedtime routine. The Sleepy Star maximizes parent-child interaction in a minimal amount of time. Wonderfully illustrated, the story is written in rhyming verse with engaging text to visual connections to promote word recognition. The Sleepy Star's positive bedtime message gives parents a simple "go to" tool that is enjoyable for readers of all ages. The unique back story of how this book came about, can be read here: http://www.huffingtonpost.com/adrienne-austermann/kids-come-first-but-dont-_b_4159689.html.
About the Author:
Ms. Werle-Austermann is an accomplished artist, writer and art educator. As a graduate of The School of Visual Arts in NYC, her career has crossed multiple disciplines which include, graphic design, advertising art direction, writing, painting and art education. She is also an independent blogger for The Huffington Post. With the release of The Sleepy Star, she now adds author and illustrator to her resume. Ms. Austermann lives in Fairfield County, Connecticut with her two children.
Members of the media who would like to review this book can request a complementary copy.
Contact:
Adrienne Austermann
Aausti1(at)gmail(dot)com
203-470-2053