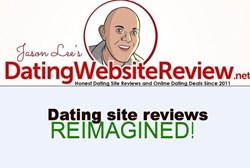 Affiliate marketers have exploited the realm of dating site reviews!
Portland, Oregon (PRWEB) November 01, 2013
It's 6am and recent M.B.A. graduate Jason Lee rises to greet another day of work; a unique day of work most might say. On this day he'll analyze the latest online dating apps, take a look at the latest feature updates on Match.com, read up on the latest online dating press releases, check for new dating sites on top online dating industry blogs, and try out at least 10 new dating sites. This though is just the to-do-list before lunch. The afternoon will be spent putting together videos on his rapidly growing YouTube channel where over the last year Jason Lee has made over 400 videos comparing features and costs for dating sites of all types. Jason's videos appear at first to be simple, most being just under 2 minutes or so in length, but behind the scenes literally hours of research goes into the actual reviews. The videos cover online dating sites in virtually all different online dating niches, from Christian dating sites to dating sites on the social cusp, such as cougar dating sites and the like. Jason Lee spends his days poring over the latest news and developments in the world on online dating. From there he pinpoints which online dating sites will be of most interest to people and then he uses his rapidly growing social media following on sites like Twitter, Facebook, and YouTube to connect people who want learn more about online dating sites, before they actually pay to join. The key to it all though as Jason will tell you, is really the data collection and that means getting more and more visitors to share their own experiences and leave reviews.
Reviews of Dating Sites As a Business Model
Dating site reviews are of course nothing new, bloggers have been writing about their experiences with online dating sites ever since online dating first came on the scene some 15 years ago. The problem though, according to Jason Lee is that, "All too often affiliate marketers have exploited the realm of dating site reviews and merely promoted sites that pay them the most rather than focus on providing real online dating statistics and research". He says, "There is a legitimate and valuable business model in providing honest dating site reviews, businesses of this nature just needs to be operated in such a way that you are not caving to commercial interests". Going into 2014 he's launched what looks to be the first online dating industry awards driven by dating site reviews and he also launched a industry sponsorship platform model to slowly move away from the affiliate compensation model.
The Online Dating Industry has noticed – The Golden Hearts Online Dating Awards
The Online Dating Industry, while still in its infancy, does have an established annual trade show which is called iDate. iDate conferences also showcases online dating industry awards and iDate organizer Marc Lesnick has invited Jason Lee to unveil one of his first annual Golden Heart Awards during this iDate conference and awards ceremony. That ceremony will take place at the largest annual online dating conference in the world, on January 14th-16th 2014 at the Luxor Hotel in Las Vegas, Nevada.
Is there a need for a 'Dating Site Reviews Professional?
Jason Lee insists there is and judging by the numbers of people that are using DatingWebsiteReview.net and subscribing to his dating site reviews YouTube Channel, he appears to be on the right track. To date his videos have nearly 200,000 views and his dating site reviews platform has been viewed nearly 1 million times over the last 12 months.
Jason Lee's DatingWebsiteReview.net is a leading destination for consumers to read and share experiences using dating sites that charge a fee to become a member. The site was launched by Jason Lee while completing his MBA in 2010 and now receives more than 15,000 monthly visitors. To date the collection of reviews on dating sites numbers over 400 with more coming online each day.
Are dating site reviews, a sign of changing professional landscapes?
What Jason Lee does for a living demonstrates not just the changing building blocks of our economy but more so how young entrepreneurs everywhere are creating entirely new professions; professions that in many cases offer valuable services to consumers; services in this case that cost consumers nothing and actually save them money.
Contact
To learn more, share a new dating site, or read dating site reviews visit http://www.DatingWebsiteReview.net . Also make sure to check out Jason Lee's Online dating deals page for free trial to dating sites.