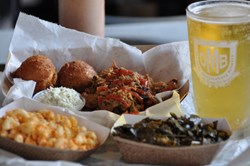 "We're really proud of Sauceman's." - Lindsay Yontz
Charlotte, N.C. (PRWEB) October 31, 2013
Foodie Call partner, Sauceman's, won awards late Saturday, October 18th at Charlotte's Q-City 11th and BBQ Festival, which is the Southeast's largest sanctioned BBQ competition. Sauceman's left as the winner of two main categories, "Anything But, Surf" and "Whole Hog."
Sauceman's is best known for its American grill fare and Lexington-style BBQ, which is slow-smoked over locally sourced hickory and oak to obtain the woodsy, Piedmont flavor that's native to North Carolina. Sauceman's has a four-star rating on online websites such as Google and Urbanspoon, and boasts a bevy of past titles, including the winner of BBQ Pitmasters and Charlotte's Best BBQ (2012).
"We're really proud of Sauceman's," said Lindsay Yontz of Foodie Call. "Our restaurant partners boast high accolades, and we take pride in their superb quality and gourmet, crowd-pleasing fare."
For those looking for some finger-licking grub, Sauceman's got it covered – from coarsely chopped Carolina BBQ sandwiches to a full rack of ribs paired with red or white slaw or their most popular sides, hush puppies and macaroni and cheese.
In addition to Sauceman's, Foodie Call offers breakfast, lunch, dinner, snack, and dessert options
to hungry goers any time of the day. New partners include Cedar Land Restaurant and Grocery that features platters of rotisserie chicken and creamy, vibrant hummus, as well as dessert guru Cloud 9 that bakes up fresh platters of cookies and stuffed, moist cupcakes, as well as two market style restaurants, Local Loaf and the Meat & Fish Company. Local Loaf offers world class Ciabattas, handed rolled Baguettes, and mouth-watering sandwiches such as the Chicken and The Egg. Meat and Fish Company has a large selection of meat, seafood, and wild game to fit any budget and ocassion. From aged steaks, to exotic seafood and game, to good ole' fresh ground chuck
Foodie Call partners with restaurants across the greater Charlotte region, and delivers food from venues like Sauceman's that do not traditionally offer in-house food delivery services. Foodie Call enables these types of restaurants to reach a greater market by providing the staff, transportation, licenses and insurances to make delivery services possible.
Offices can also partake in Foodie Call's services by opting for catered events or its virtual meal programs. The full-service delivery business also offers reward and referral programs for its loyal customers. Hours of operation are Sunday through Thursday from 10:30 a.m. to 10:00 p.m., and Friday and Saturday from 10:30 a.m. to 10:30 p.m. Deliveries more than $150 can be made outside of regular service hours and outside of normal delivery zip codes with 48-hour notice.
About Foodie Call, Inc.
Foodie Call is a multi-restaurant marketing and delivery service providing a delicious variety of Charlotte's best cuisine, beer, and wine to Charlotte metropolitan area residents, workers, and visitors. Foodie Call services Charlotte and the surrounding areas from Ballantyne to Lake Norman. The delivery company brings napkins, utensils, and drinks for a full complement to your meal. For special events, they can provide wine accompanied by gift boxes or items for themed events. For hours and menus, or to place an order, visit http://www.MakeAFoodieCall.com or call Benny, the catering manager, at 704-245-6556.
Contact:
Lindsay Yontz
Lindsay(at)MakeAFoodieCall(dot)com
308 E Worthington Ave.
Charlotte, NC 28203