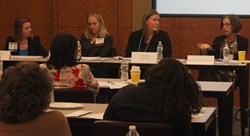 Philadelphia, Pa. (PRWEB) October 29, 2013
Philadelphia VIP, the hub of pro bono legal services in Philadelphia, hosted its signature CLE training, Pro Bono Opportunities Day, at Exelon on Oct. 22, 2013, to help volunteer attorneys navigate ethical issues in pro bono service.
The event began with a Judges Breakfast. Thirty attorneys were given the opportunity to network with judges from the First Judicial District of Pennsylvania. Once the breakfast concluded, Frank Pina, of the Mercadien Group, introduced the Honorable Alice Beck Dubow who delivered the keynote address. Judge Dubow spoke about her work with VIP and the value of pro bono service.
Afterwards, VIP Staff Attorney Michael Viola and VIP's former Homeownership Advocate Susan Wysor Nguema conducted a poverty simulation designed to expose attorneys to issues of poverty that VIP clients face.
Dubow was then joined by trainers Sara Woods, Mary Gay Scanlon and Amy Tarr, who presented the 2.5 CLE credit training to explore ethical issues that arise in pro bono representation. The presenters invited questions, provided practical solutions and reviewed the Pennsylvania Rules of Professional Conduct. First-time attendees who were new to VIP were invited to enroll as volunteers while seasoned volunteers were welcomed back.
Pro Bono Opportunities Day helps VIP recruit and retain skilled volunteers to take on the complex civil legal cases of low-income Philadelphia residents.
Philadelphia VIP (http://www.phillyvip.org) was founded in 1981 by the Philadelphia Bar Association and Community Legal Services to meet the legal needs of low-income Philadelphians by recruiting and training attorneys to provide pro bono legal services. Since that time, the organization has recruited and trained thousands of private attorneys to create a pool of volunteers to provide consistent, high-quality representation to low-income clients with critical legal needs. VIP continues to implement creative and effective ways to bridge the gap between marginalized individuals, families and communities with legal needs and lawyers possessing the skills and ability to meet those needs. Today, VIP's diverse volunteers serve more than 3,000 clients annually with legal issues that affect basic human needs.