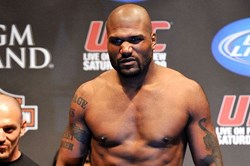 Los Angeles, CA (PRWEB) October 30, 2013
Like any fighter, Quinton "Rampage" Jackson understands injuries. He himself worked through knee surgery and pain until he found Platelet-Rich Plasma therapy (PRP) in recent years. However, the former UFC champ is disappointed by the recent cancellation of the Bellator 106 pay-per-view event versus Tito Ortiz due to his opponent's neck fracture. As reported by MMAJunkie.com, Jackson stated, "…throw another opponent at me and still keep the PPV because I trained really hard for this and had my knees fixed." Jackson also extended his sympathy to Ortiz, wishing him a speedy recovery.
On October 28, 2013 Jackson was named to Fox Sports' "The Top 20 Fights in UFC History" for his classic win against Dan Henderson, a London fight that drew a televised audience of as many as six million viewers in 2007.
Dr. Bill Releford, CEO and Founder of the Los Angeles-based Releford Medical Institute (RMI) applauded Jackson's decision to pursue PRP therapy instead of surgery. Says Releford, "One of the main reasons athletes continue to explore the benefits of platelet-rich plasma therapy (PRP) is that injuries that traditionally took a full season or more to heal and rehab after surgery can now often be resolved in just months or weeks after using this innovative treatment."
The RMI's Medical Director Dr. John Simmonds—an orthopedic surgeon—concurs that a series of non-invasive PRP treatments should be performed before surgery in many cases. "PRP has proven effective for many patients, for many conditions, and for many injuries. Along with other non-surgical approaches, I recommend to a number of patients that they try PRP injections first."
PRP therapy has the potential to supercharge healing. By injecting small, concentrated amounts of a patient's own blood into damaged tissue, PRP can speed healing and reduce or even eliminate pain. The RMI uses proprietary methodologies to treat joint and tendon pain, ankle sprains, heel pain, and plantar fasciitis. The Institute also uses PRP injections to improve poor circulation, treat diabetic neuropathy, and HIV neuropathy.
Does pain literally bring you to your knees? If so, call 310-412-0183 to schedule a free medical consultation and learn more about The Releford Medical Institute and PRP therapy.
About The Releford Medical Institute
Founded by CEO Dr. Bill Releford, The Releford Medical Institute (RMI) is a full-service podiatric, sports medicine, and orthopedic practice. Together with medical director and orthopedic surgeon Dr. John Simmonds and tissue specialist James Hays, the RMI provides the highest standards of medical care and manages common and complex orthopedic conditions, using non-surgical methods whenever possible. These include proprietary PRP injections, patient education, chiropractic, physical medicine, physical therapy, rehabilitative treatments, nutrition, and sports medicine education.
Through the Releford Foot and Ankle Institute, the Releford Medical Institute is committed to healthcare outreach and advocacy. It aims to expand community-based health screenings through innovative partnerships, and has a longstanding commitment to reduce the diabetes-related amputation rate and provide comprehensive wound care and limb salvage services.