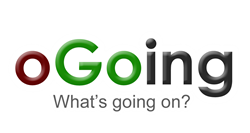 The important thing is not to stop questioning. Curiosity has its own reason for existing -- Albert Einstein
Irvine, CA (PRWEB) October 30, 2013
oGoing is the nation's leading small business social network. oGoing provides an amazing online business networking and social media marketing platform where small businesses, entrepreneurs, startups and owners connect and network online, express business needs, share insights, ask questions and ask for referrals. Professionals announce their news and events, promote their products and services, and post offers. oGoing has a bold mission to promote nation's 28 million small businesses and make them successful.
"Customers are continuously bombarded by non-stop social media updates from their followers. Eventually, these customers stop following you and stop listening to what you are saying. oGoing provides the best business social network for effectively engaging with your customers," Sanjay Dalal, founder / CEO, oGoing.
The majority of professionals use social media to promote what they do. They share continuous updates about their products and services, company news, offers and specials, and upcoming events. These professionals believe that their customers are eagerly consuming these updates. Unfortunately, they are dead wrong! Customers do not want to be blasted by constant promotional tweets or posts. Customers want to see something that interests them and helps them do better business.
Social media is not about self-promotion. As a matter of fact, when a company or individual promotes themselves frequently on social media, their customers become even more disenchanted and disengaged. What are then the best ways to engage with customers on social media networks? The three answers will surprise the business community.
oGoing presents three easy steps to engage more effectively with customers on social media:
Step One: Ask Questions
When a professional asks a question on social media, their customer instinctively pauses to read and answer this question. This is human nature; a person always pauses to think when someone asks them a question. If the customer has a ready answer, they will respond to this question. This is how customers start and remain engaged on social networks. When professionals phrase their status updates as questions, these initiate conversations with their customers, resulting in higher engagement.
Step Two: Answer Questions
By the same token, a professional should always be on the lookout when their customer asks questions on social media. Most professionals do not even listen to what their customers are saying or asking. When customers ask questions, professionals should answer them to the best of their knowledge as soon as possible. The more answers customers receive to their questions, the more engaged they become with the professionals.
Step Three: Promote Customer's Updates
When a professional promotes their customer's updates, three great things happen: Customer becomes excited and happy because their post received a social media boost; Customer becomes curious and begins to pay more attention to the professional's updates; Customer will return the favor in the future. There's one more thing. The social network determines that the professional is doing more than just sharing their own updates, and hence provides more visibility to this professional. A simple act of promoting a customer's update results in follow-on engagement and more exposure.
oGoing is the only business social network that provides easy tools for professionals to ask questions, provide answers and promote customers.
About oGoing:
oGoing launched oGoing.com, USA's leading social network for small business. oGoing provides owners, service providers and entrepreneurs a powerful social media marketing platform that promotes the business, attracts new customers, boosts online visibility, improves website traffic and accelerates sales.
oGoing Helps Small Businesses Find New Customers! Join oGoing Now