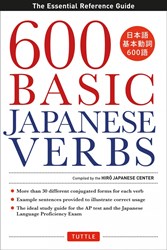 North Clarendon, VT (PRWEB) October 31, 2013
The Hirō Japanese Center is proud to announce the release of their new book 600 Basic Japanese Verbs. The book is a handy, easy-to-use guide to one of the building blocks of language learning—verbs. This book shows learners how to conjugate the 600 most common Japanese verbs quickly, and with very little effort. This is the only guide to list all verb forms in both Japanese script and romanized form.
Key features of the book:

Includes all the most useful verbs and Kanji in Japanese, including the less common ones
A wealth of example sentences are given to demonstrate correct verb usage
Over 30 forms are given for each verb including polite or formal, plain, negative, potential, conditional, passive, causative, and many more
Both Kana, Japanese script, and Romanized forms are given for each entry
An ideal study guide for the standard Advanced Placement college test and the Japanese Language Proficienty-Exam
Special sections are devoted to compound verbs and suru verbs such as Kaimono suru, benkyo suru and much more
600 Basic Japanese Verbs was compiled by Japanese language experts at the Hiro Japanese Center, a teacher training center accredited by the Japanese Ministry of Education which has trained thousands of teachers of Japanese for more than 25 years and has taught many tens of thousands of foreigners to speak, read and write Japanese fluently. The book, published by Tuttle publishing, is now available and can be purchased at select bookstores or online.
About Tuttle Publishing
Established in 1948 by Charles Egbert Tuttle Jr. in Rutland, Vermont and Tokyo, Japan, Tuttle Publishing is the premier publisher of English language books on Asian culture. Today, Tuttle maintains an active offering of books on a wide range of topics, including Asian culture, Asian literature, Asian architecture, Eastern spirituality, gardening, cooking, martial arts, crafts, travel, health and wellness, and fine art for a worldwide audience. For more information, visit http://tuttlepublishing.com.