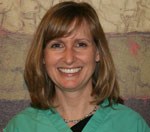 The compact surface area exposes the embryo to more of the cryoprotectant we use in the IVF lab to safeguard the embryo during the freezing process.
Austin, Texas (PRWEB) November 05, 2013
Texas Fertility Center research concludes that artificial collapse of blastocysts, six-day-old embryos created in a cycle of in vitro fertilization, prior to freezing results in near-perfect outcomes. Rita Fields, one of the Austin IVF Lead Embryologists, presented the study findings at the annual meeting of the American Society for Reproductive Medicine (ASRM) in Boston, MA this month.
By artificially shrinking a blastocyst--removing the fluid to collapse and then freeze it--the survival rate at the time of thawing increased from 69 percent to 97 percent. For couples pursuing in vitro fertilization, this means greater chances for having access to viable embryos and a successful pregnancy.
Texas Fertility Center conducted the blastocyst research in conjunction with its partner fertility laboratory--Austin IVF--beginning in November 2011. At that time, a new process for freezing eggs called vitrification had its experimental classification removed by ASRM. Texas Fertility Center immediately began further improving the IVF lab process for freezing, or cryopreserving, embryos.
Embryologist Rita Fields, MS, ELD (ABB), compared the process of collapsing a blastocyst to letting the air out of a beach ball.
"We employ a laser to make a microscopic hole in an embryo, and collapse it onto itself," says Fields, who helped conduct the research in the Texas Fertility Center/Austin IVF study. "The collapsing process does not negatively affect the embryo in any way. In fact, the compact surface area exposes the embryo to more of the cryoprotectant we use in the IVF lab to safeguard the embryo during the freezing process."
Reproductive Endocrinologist and Medical Director, Dr. Kaylen Silverberg says the results have been so positive that Austin IVF now collapses every blastocyst prior to cryopreservation for Texas Fertility Center patients.
"I reassure my patients that with the freeze-thaw success associated with this new technique, they can expect to have embryos available for the current and subsequent cycles of IVF. With the incredible track record established over the past two years, we are actually looking for reasons to freeze embryos on our patients rather than perform a fresh transfer."
About the IVF Process
Texas Fertility Center has 30 years of experience in performing IVF, with more than 13,000 babies born as a result of IVF and other fertility treatment cycles.

IVF begins with ovulation induction to cause the woman to produce multiple oocytes (eggs) in a cycle.
The fertility specialist performs an outpatient egg retrieval procedure once the eggs are mature.
Eggs and sperm are then combined in the IVF lab for fertilization.
The resulting embryos are evaluated for quality and viability, and may be genetically tested with a process called PGD when warranted.
Cryopreservation occurs when a sufficient number of embryos are created for the current cycle. The couple or individual can then freeze extra embryos in case 1) the IVF cycle does not produce a pregnancy or 2) the couple desires a sibling cycle of IVF.
Improving the process for freezing embryos benefits the infertile community in three key ways:
1) Artificially collapsed blastocysts result in excellent survival rates.
2) Frozen embryo transfer cycles of IVF, called FET, outperform fresh cycle IVF.
3) An opportunity exists for couples to donate viable frozen embryos.
About Texas Fertility Center
Texas Fertility Center (TFC), one of the nation's leading full-service infertility practices, provides advanced Infertility and Reproductive Endocrinology services to patients throughout Texas, the Southwestern United States, and the Americas. Since 1980, TFC has been recognized nationally for outstanding pregnancy rates, cutting-edge laboratory procedures, and innovative research programs. For more information, please visit http://www.txfertility.com.
About Austin IVF
http://www.Austin IVF.com