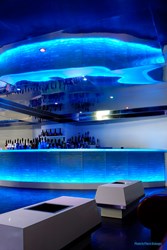 We've had lots of traffic at the club in the last few years, and never had a problem with the glass bar. It still looks like the first day we received it.
(PRWEB) November 20, 2013
With glass counters gaining popularity as the hottest new material for residential kitchen countertops, it's only natural that this surging trend spills over into a multitude of commercial applications. From banks and hotels to retail stores and restaurants or bars, all manner of businesses are discovering that glass adds a dimension of beauty and elegance to the work space and has the rare strength and durability needed to withstand the challenges of constant daily use.
ThinkGlass, an acclaimed glass design and manufacturing studio headquartered in Quebec, has worked with businesses large and small around the world to craft custom glass applications, with the latest line being showcased in several bars and hotels in Canada.
The very popular Real Sports Bar & Grill in Ottawa is equipped with an impressive 80 foot long glass bar with glass front panels. ThinkGlass signature thick glass can also be found at other places within the establishment.
Another bar in Ottawa, the NV Ultraclub, is showing a magnificent glass bar with texture edges and Ice textured front panels. The owner had a great comment regarding the work ThinkGlass did: "It looks great, it's durable and needs no maintenance; so much can be done with ThinkGlass. We've had lots of traffic at the club in the last few years, and never had a problem with the glass bar. It still looks like the first day we received it. We get compliments every day! It truly is one of a kind. Exactly what I was looking for! Thank you again for everything."
A few years ago, the Tribe Hyperclub in Montreal wanted to refresh the look of its bars. Working with designer Paolo Viera, ThinkGlass created unique visual elements including 4 bars (countertops and fronts) and glass murals with stylish ICE texture.
ThinkGlass also created more than 200 countertops for the San Jose Airport's ticket and baggage desks, proving that glass is an ideal solution for high-traffic areas due to its durability, inherent hygienic qualities and low maintenance needs.
A five-star hotel, Hotel Le Crystal in Montreal, recently called on ThinkGlass to design an impressive glass countertop at their check-in center, creating a welcoming, opulent first impression for their guests and adding value to the overall design of their lobby.
All the Residence Inn hotels of the Marriott brand are using ThinkGlass glass, or the artistic glass by MAILHOT, to welcome their guests. Since 2008, ThinkGlass has produced more than thirty-five welcome desks for the Marriott's hotels. ThinkGlass is proud to be working with the Marriott brand and for the trust they have in our glass product.
Another great brand that trusts ThinkGlass' glass products for their chain of stores is Brown's Shoes. ThinkGlass has created glass counters for the nearly 50 locations throughout Canada. This trust from Brown's is very much appreciated and is a confirmation of the quality of ThinkGlass products.
Having a glass bar not only makes an impression on the clients but also bring a powerful design element that enhances the establishment. All these examples are also proof of the durability and functionality of glass bars and glass welcoming desk.
Using 100% recyclable glass, ThinkGlass combines the latest technology and sustainable practices to create a remarkable array of custom glass applications like glass treads and walls. Although they appear to have a delicate, almost ethereal beauty, the countertops are as strong and durable as any natural stone or manmade countertop surface.
Because glass is non-porous and requires no sealant, it is a healthy, hygienic choice for use in public areas.
About Thinkglass
The ThinkGlass story began in 1999 in an empty room under the leadership of two creative individuals who were passionate about beautiful glasswork. Today, the company is one of the most successful glass design and manufacturing studios in the world with a shop that encompasses more than 30,000 square feet, 27 employees and 21 state-of-the-art, custom made ovens. ThinkGlass is still headed by its two original founders – glass master Michel Mailhot who is the artistic soul of the company, and Bertrand Charest, a certified engineer and company president. Together with their talented team, they produce all manner of glass masterpieces, from residential kitchen to bathroom vanity countertops and backsplashes to fantastical sculptures, wall murals and floor tiles or bridges, and even large-scale commercial projects for restaurants, nightclubs and offices.
ThinkGlass quickly became a leader in the thermoforming industry by pioneering a versatile technique that allows the creation of new or repetitive textures. This process allows the creation of glass slabs with-out thickness constraints opening the door to all kinds of design possibilities. All ThinkGlass creations are made from 100% recyclable glass using sustainable practices and without the use of any adhesive or sealant potentially containing harmful volatile organic compounds (VOCs).
For more information about ThinkGlass products, visit thinkglass.com or call 1-877-410-4527.