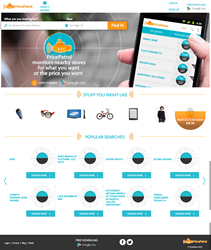 San Diego, Calif. (PRWEB) November 14, 2013
There is a new savings and gift assistant available to alleviate holiday shopping headaches. Price Patrol, a free, deal-hunting website and Android app has launched just in time to provide holiday shopping efficiency and organization. Now, no great deal will go undiscovered. Price Patrol monitors a live inventory of 20 Million products from over 120,000 retail locations to create a personalized shopping experience that alerts shoppers when the item they want is available at a nearby retailer and for the price they are willing to pay.
From decorating to party planning; family gatherings, gift-giving and more, holidays are supposed to conjure up feelings of joy and nostalgia. But many shoppers face Yuletide blues when frantically searching for the perfect bargain while being bombarded by untargeted deals and ads. Enter Price Patrol; a one-stop holiday gift browsing and price alert companion that sends alerts only for the items on a shopper's radar.
How it Works
Much more than a simple search-and-alert interface, the versatile website and mobile app can be used for price comparisons across multiple retailers and gift suggestions based on popular search recommendations. Products can be added, updated or deleted to suit changing preferences and additional shopping lists. After adding friends and family gifts to their radar, shoppers set the price they are willing to pay and the distance they would travel to pick up each gift. When the price drops within budget, Price Patrol sends an alert with directions and contact info for the local store.
Holiday sales, deals and offers are in full-swing leading up to and beyond Black Friday. Price Patrol eliminates the energy spent on deal monitoring by constantly scanning live inventories and prices of hundreds of leading retail stores including Macy's, Nordstrom, Best Buy, Gymboree, REI, Gap, Sephora, and Home Depot. During the last week of holiday shopping, the Android app is particularly useful as consumers are more likely to be shopping on-location at a local retailer. With the app, a shopper can do an instant price comparison among similar or competing retailers in the surrounding area.
Pricing & Availability
Price Patrol is free to use and all features are immediately accessible after the one-step, account registration. Users are under no obligation to sign up for any other service or endure what Price Patrol CEO Vincent Marconi describes as "an endless e-mail, alert, and advertisement barrage of unsolicited, non-targeted offers."
An Android device is not required. Mac and PC users can log onto http://www.pricepatrolapp.com at home, while Android users can download the mobile application from Google Play or TEXT "PPDROID" to 68398 for instant download. The iOS app will be released this December.
About Price Patrol
Price Patrol took 2nd place at the San Diego TechCrunch Pitch-Off in August and was recently recognized for Best Product during San Diego Entrepreneur Day.
For the latest news, holiday shopping updates and customer service, connect with Price Patrol on Facebook and Twitter