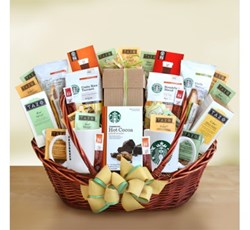 Choosing Starbucks as the brand of coffee that would be offered in the food gifts was not tough.
Monroe, NY (PRWEB) November 05, 2013
Launch of a new selection of Starbucks food gift baskets seems to be a sure sign that this category is being noticed by consumers. Earlier this year, Print EZ thought of a new idea and decided to source Starbucks products to create coffee and tea hampers in order to create Starbucks Food Gift hampers as part of their food gifts section. As mentioned by the print EZ CEO Morris Rose at that time, "Choosing Starbucks as the brand of coffee that would be offered in the food gifts was not tough. The idea was to make sure that the food baskets included the best and most loved coffee in the country. Starbucks was the obvious choice!"
There was a test phase in which the company decided to offer some food baskets that included Starbucks coffee and branded products. Specific hampers were designed for this test phase. Combination food gifts were created with cheese, cocoa products and chocolates. Inside sources tell us, "The test phase proved to be a great success and the number of Starbucks food gift baskets that were picked up by customers were more than the targeted amount. It was therefore, easy to extend the Starbucks products into other varieties of food baskets that were being designed."
Post the successful launch and great results from the test phase, the main Starbucks food gift baskets now offer include 'Starbucks Evergreen & Coffee', 'Starbucks Coffee, Cocoa & Chocolate to Share' and 'Starbucks Warm Up the Workplace'.
Starbucks Evergreen & Coffee comes in a woven basket that contains four different varieties of Starbucks - Sumatra, Cafe Estima blend, Blond blend and Pike's Place roast. There is also a Starbucks coffee mug to enjoy this special coffee in. Other products in this food basket that complete the gourmet selection of coffee blends are Zen tea, spiced chocolate biscotti and a dark chocolate bar too. This Starbucks food gift basket costs less than $35.
The Starbucks Coffee, Cocoa & Chocolate to Share is a larger food basket option that is packed in a natural kraft box and tied with a beautiful green ribbon. The Starbucks blends featured in this basket include the House Blend, the Breakfast Blend and the French Roast. This basket contains two Starbucks ceramic mugs, spiced chocolate biscotti, organic chocolate bar and salted caramel hot chocolate too. According to company details this Starbucks food gift basket was created to include 'something for everyone'.
The third main offering in the Starbucks food gift baskets from Print EZ is the largest that is on offer. It includes the Starbucks French Roast, House Blend and Breakfast Blend coffee. Nonni's biscotti and Walker's shortbread cookies also form a part of this food basket from Print EZ.
Those purchasing Starbucks food gift baskets also stand to get 3% money back as part of the EZ rewards program. A personalized message can be added to each of the food baskets that are purchased. However, Print EZ maintains an additional fee for this personalization. One of the best benefits of making gift purchases at Print EZ is the scheduling option. Click on a date and schedule the gift to be sent on the scheduled date and there will never be a chance to miss birthdays, anniversaries, holiday gifts, wedding gifts or any other. Choose a lazy Sunday or time on the subway to make the bookings.
Get more information about how Print EZ offers and new launches on Food Gifts Baskets at http://www.printez.com/food-gifts.html or call the company at 1-888-246-0635.
To read more about shop-by-price-food-gifts, click here: http://www.printez.com/shop-by-price-food-gifts.html
To read more about gift-baskets, click here: http://www.printez.com/gift-baskets.html
Print EZ
4 N Main St.
Monroe, NY 10950
(845) 782-5832