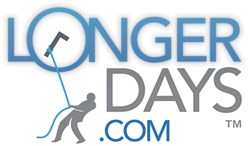 Our service caters to businesses that require critically-thinking, part-time help throughout the workday ... We offer a range of on-demand services intended to fill the staffing gaps in our customers' businesses so that they can get the help they need
Michigan (PRWEB) November 13, 2013
LongerDays.com, a Virtual Assistant Company that provides business owners and professionals with full-time access to a virtual team, is being called "a true success story," by Jason Pliml, Technology Business Consultant for the Michigan Small Business & Technology Development Center (MI-SBTDC).
The MI-SBTDC added its October write up of LongerDays.com to its list of "success stories" which can be found by visiting misbtdc.org.
"Businesses of all sizes struggle to get their daily to-do list accomplished. This is particularly true for small business owners who wear multiple hats and dream of longer work days since they can't afford to hire employees." said the MI-SBTDC website.
"LongerDays.com caters to businesses that require critically-thinking, part-time help throughout the workday," said Company CEO Chad Lawie. "We offer a range of on-demand services intended to fill the staffing gaps in our customers' businesses so that they can get the help they need, when they need it."
By working with LongerDays.com, businesses have full-time access to help. Assistants are available from 9:00am to 5:30pm EST, Monday through Friday, just like a traditional employee. However, staff only "clocks in" for a business when they are needed.
This built in scalability eliminates the downtime associated with traditional employees, helping customers keep costs down. Customers can engage services for $90-$260 per week.
All LongerDays.com Virtual Assistants work together from the same office. LongerDays.com is one of the largest Virtual Assistant Companies in the United States that operates in this type of team environment, pooling skills and knowledge for the benefit of customers and employees alike.