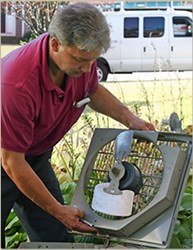 Seattle, WA (PRWEB) November 16, 2013
Even if you have a modern energy efficient heating system, it will require proper maintenance to keep it performing at that level. Late summer-fall is the best time of year to get that maintenance done, so your equipment will be ready to go when you crank up the heat.
For any heating system (furnace, heat pump, radiant heating or boiler) timely maintenance can make a big difference in efficiency, up to 10% savings in heating costs. And importantly, for older furnaces, a qualified maintenance technician can assess how much life it has left in it, so it doesn't leave you stranded in the cold.
Washington Energy Services joins all heating equipment manufacturers and EnergyStar (the US Department of Energy), in recommending annual professional maintenance of heating equipment. This is often called a furnace "tune up". And for gas standby generators, it's required for the warranty to remain in force.
Why do they call it a "tune – up"? Because it has the same function as the tune-up, oil change or mileage based maintenance you might get for your car.
EnergyStar recommends these maintenance guidelines:
Start with changing your furnace air filter regularly. Next, get a tune up of your HVAC equipment by a qualified technician that includes:
1. Check of thermostat and any programmed settings.
2. Check electrical connections and measure voltage and current on motors.
3. Lubricate moving parts to avoid wear.
4. Inspect condensate drain in furnace, AC or heat pump.
5. Check system controls, starting cycle and shut off.
6. Clean and inspect air filter.
7. Inspect flue piping.
8. Check gas connections, pressure, combustion and heat exchanger.
Washington Energy Services is the leading heating service and repair provider in the Puget Sound area, fixing 10,000 heating and cooling systems per year. Washington Energy offers a 21 point furnace maintenance in alignment with the EnergyStar and ACCA best practices. It costs $139 and extra pieces of equipment can be added at a discounted rate. The company services all major brands of heating equipment. Full Home Energy Audits are also available. For expert maintenance services, they can be reached at 800-398-4663.