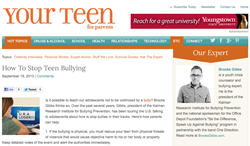 Understand the types of situations that may create pain for your children.
(PRWEB) October 31, 2013
Can we teach our teenagers to avoid being victimized by bullies? With recent tragedies that bring media attention to the sometimes life threatening consequences of bullying among teenagers, Your Teen Magazine for Parents, http://www.yourteenmag.com offers expert advice for parents on how to help their children not be victimized by school bullies in an article entitled How To Stop Bullying.
According to Your Teen Editor-in-Chief Susan Borison, "Parents can make a difference. The first step is to understand the types of situations that may create pain for your children, followed by helpful responses to empower your teen."
Your Teen talks to Brooks Gibbs, president of the Kalman Research Institute for Bullying Prevention, who offers tips on how parents can help their kids stop bullies in their tracks. Among his tips are:
1. If the bullying is physical, you must rescue your teen from physical threats of violence that would cause objective harm to his or her body or property. Keep detailed notes of the event and alert the authorities immediately.
2. If the bullying is verbal, teach your teen not to get upset. If teens have an emotional reaction to the bully, like showing anger or tears, the verbal bullying will continue. If they don't get upset, the verbal bullying will probably stop.
3. If the bullying is online, you must teach your teen how to respond using the Golden Rule, that is treat everyone like friends, even your enemies. A brief and kind response will make the bully look and feel foolish, and the online bullying will probably stop.
4. If the bullying involves social exclusion, you must help teens to understand that not everyone will want to be their friend. When they can enjoy a few loyal friends and aren't interested in seeking approval from everyone else, their life will become much happier.
For the full article go to:
http://yourteenmag.com/2013/09/how-to-stop-a-teen-bully
About Your Teen Magazine for Parents
Your Teen Quarterly Magazine and yourteen.com address the challenges inherent in raising teens and helps parents of teens to continue the journey toward the goal of successful parenting. In the magazine format and online, parents can pose questions, offer personal tactics and hear the different perspectives of professionals, other parents, and teenagers on relevant topics. Your Teen hopes to ease the worry.