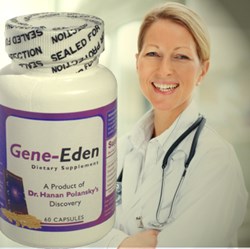 Herpes can decrease the sperm count. We recommend that men who are infected with Herpes, and wish to be fathers, use Gene-Eden-VIR to target the latent Herpes virus. – Mike Evans, polyDNA
Rochester, NY (PRWEB) November 02, 2013
The Herpes virus can cause infertility according to a new study (1). This could be a reason infertility rates are increasing. In fact, birth rates in the U.S. hit a historic low in 2012 according to an article published on December 4, 2012 in Time Magazine (2). Thus, polyDNA recommends that men who want to be fathers should use Gene-Eden-VIR to help their immune system target the latent Herpes virus.
Gene-Eden-VIR is a natural antiviral supplement that targets the latent HSV-2. A recent post marketing clinical study published on August 12, 2013 in the peer reviewed, medical journal Pharmacology & Pharmacy, in a special edition on Advances in Antiviral Drugs, showed that Gene-Eden-VIR reduced HSV-2 symptoms. Study authors wrote that, "Individuals infected with the Herpes virus…reported a safe decrease in their symptoms following treatment with Gene-Eden-VIR (3)."
But, how does Herpes cause infertility in men?
The Herpes virus can infect the cells that produce sperm. As a result, some of these cells die, and others produce infertile sperm. This decreases the sperm count (1). Another study showed that "all HSV-positive samples had abnormal semen parameters (the male factor group). Although HSV infection was not associated with sperm motility and morphological defects, it was correlated with lower sperm count in the seminal fluid. The findings suggest that asymptomatic seminal infection of HSV plays an important role in male infertility by adversely affecting sperm count (4)."
"Herpes can decrease the sperm count. We recommend that men who are infected with Herpes, and wish to be fathers, use Gene-Eden-VIR to target the latent Herpes virus." – Mike Evans, polyDNA
Each ingredient of Gene-Eden-VIR was chosen through a scientific approach. Scientists scanned thousands of scientific and medical papers published in various medical and scientific journals around the world to identify the safest, most effective natural ingredients that target the latent form of HSV. (3)
To learn more about Gene-Eden-VIR, and the latent Herpes virus, visit http://gene-eden-kill-virus.com/Herpes-Remedy.php. All orders of Gene-Eden-VIR are completely confidential, and no information is shared or sold to any third party. Privacy is assured.
References:
(1) http://www.ncbi.nlm.nih.gov/pubmed/24006625
(2) http://www.ncbi.nlm.nih.gov/pubmed/23554795
(3) http://www.scirp.org/journal/PaperInformation.aspx?PaperID=36101
polyDNA is a biotechnology company that develops dietary supplements using the unique scientific method developed by Dr. Hanan Polansky, which is based on Computer Intuition.
In addition to his unique scientific method, Dr. Polansky published the highly acclaimed scientific discovery, called Microcompetition with Foreign DNA. The discovery explains how foreign DNA fragments, and specifically, DNA of latent viruses, cause most major diseases.
polyDNA developed Gene-Eden-VIR, an antiviral natural remedy that helps the immune system kill latent viruses.