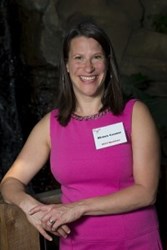 "I believe that cervical cancer can be eradicated. This can happen in my lifetime," says Dr. Miriam Cremer.
Pittsburgh, Pennsylvania (PRWEB) October 31, 2013
On November 16, The Women and Girls Foundation (WGF) will honor Dr. Miriam Cremer, President and Founder of Basic Health International (BHI), for the global impact of her work and its contribution to the fabric of Pittsburgh.
To date, nearly 20,000 women have been screened for cervical cancer in partnership with BHI. This number will double over the next 2 years as BHI completes initiatives that will screen over 30,000 women throughout Latin America and the Caribbean.
Dr. Miriam Cremer began her work in cervical cancer prevention as a medical student providing basic medical care to a small town in rural El Salvador.  "I would transport their pap tests to the United States in my backpack to be analyzed.  It was unacceptable to me that women anywhere could die of this preventable disease," says Cremer. From these humble beginnings, Cremer has grown an organization with worldwide impact and the extraordinary vision to end cervical cancer. 
Worldwide, a woman dies of cervical cancer every two minutes. This is the equivalent of three 747s full of women crashing every day. Nearly 90% of the new cases of cervical cancer occur in the developing world. Yet cervical cancer is entirely preventable.
BHI's latest undertaking is the development of a screening program for national governments that can be replicated in developing countries across the globe. This program is implementing the first HPV-screening device designed for use in areas with no running water or electricity on an unprecedented scale.
Dr. Miriam Cremer will be awarded at WGF's annual gala on Saturday, November 16, from 6 to 9:00 p.m. at the August Wilson Center for African American Culture in Pittsburgh, Pennsylvania.