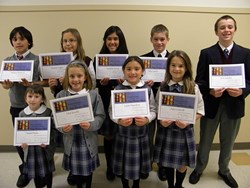 The best part is to watch the students....become part of the poem. It comes alive for the them and they have fun!" - Bob Gath, middle school English teacher at Everest Academy in Lemont
Lemont, IL (PRWEB) November 05, 2013
Everest Academy in Lemont recently held its Annual Poetry Contest in which all students, kindergarten throughth grade participated. Students were required to present within their classrooms an oral interpretation of a poem that they enjoyed and that was three to four minutes in length. Two students were then chosen to compete in front of parents, faculty and staff and a panel of judges at the Annual Poetry Contest.
Poems chosen were from a variety of classical and contemporary selections penned by Robert Louis Stevenson, Christina Rossetti, Robert Frost, Lord Alfred Tennyson, Louisa May Alcott, Edgar Allen Poe, Hilaire Belloc, Shel Silverstein and others. All came to life as the Everest students used their tone, volume, infliction and gestures to transport their audience from the Everest Academy stage to a several different settings of place and time.
The students get excited when choosing a poem and chose poems that resonated with them personally. They look for something that speaks to them; something that has personal meaning for them. This makes it easier to memorize the poem and to deliver it with confidence and conviction. Ysabella Zarate, who took first place for fifth grade, presented Louisa May Alcott's Our Little Ghost which held special meaning for her. Marino Ramirez, who won first place for fourth grade and delivered The Charge of the Light Brigade, enjoyed the poem and the excitement he was able to convey in his presentation of it. Sixth grader, Victoria Ligas, was looking for something that everyone could relate to, that was upbeat and happy yet had depth. She found it in Edgar Allen Poe's Annabelle Lee, and was rewarded first place in her class for her delivery.
Challenged with the difficult task of determining who would be the winners, the panel of judges consisted of Fr. Kevin Baldwin LC, Mr. Robert Gath, Ms. Mary Inman the from the Lemont Public Library, and Ms.Therese Wells from Simmons Middle School in Oak Lawn. Ms. Wells commented, "Everest contestants performed poetry readings and brought voices from long ago to life once again." Mr. Robert Gath, who is the middle school English teacher at Everest Academy, said, "The best part of the contest is to watch the students work on memorizing and presenting the poem. They become part of the poem. It comes alive for them and they have fun! Enjoying poetry can be a difficult thing and they learned how."
This experience of standing and delivering an oral interpretation in front of a crowd gives Everest students the practice needed to stand up and speak in any situation. It is part of the Integral Formation® of an Everest education. The hope is that these young Christian leaders will always be able to confidently lead in their communities, relationships, families and dealings.
Everest Academy is an independent Roman Catholic school in Lemont educating children from preschool through eighth grade. The teachers and staff are dedicated to forming the whole child by providing the highest level of academics, by building strong character, and by preparing generous leaders ready to serve the community. If you would like to learn more about Everest Academy's unique approach to education, please contact KC Wollenberg at 630-243-1995 or visit http://www.everestadvantage.org.