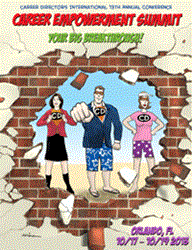 By far this was the best conference I have attended. The format of the program enabled experiential learning amidst the content-rich presentations.
Melbourne, FL (PRWEB) October 31, 2013
The 2013 Global Career Empowerment Summit was met with resounding success. During this master's-level program, top resume writers, career coaches, and other career professionals from locations worldwide to gain insight on the newest programs, tools, strategies, and processes to lead their job-seeking clients to successful employment and career satisfaction.
CDI President Laura DeCarlo states, "This year CDI pulled out all the stops to give attendees a 365-day, 360-degree program for success. The CDI Summit is a true milestone in the career coaching and resume writing industry because of its unique approach to planning programs that are focused on forecasting emerging trends and targeting the deepest challenges that practitioners face." The feedback from attendees at the 2013 program is that CDI's program attained a record high in value with all the added bonuses in cementing takeaways and targeting different learning styles for the highest possible ROI:
"I was hanging on every word and resonating like a tuning fork. Every presentation from Kim Avery on Day one to Audrey Prenzel on Day three. I've been to three CDI conferences and somehow this one felt especially intense." – Donald Burns, Donald Burns' Career Defense
"By far this was the best conference I have attended. The format of the program enabled experiential learning amidst the content-rich presentations. The exercises were thoughtfully presented and executed and the Q&A session at the end of each day was the perfect complement to the day's programming and that format enabled us to spend the day internalizing the content and then topping it all off with questions for the experts." – Maureen Farmer, Word Right Career & HR Consulting
"I would highly recommend this experience to anyone who is committed to building a successful business and eager to network with influential leaders in our industry. I have no doubt that the return on my investment will be exponential!" - Kim Meninger, Great Heights Coaching
"Mind blowing speakers at CDI." – Martin Yate, Knock 'em Dead
To share the wealth from this powerful Summit program, CDI has created a resource page which offers written tips from each of the speaker sessions as well as 46 short videos from presenters and attendees. Highlights of tip videos include:

Using Language that Puts You in Control with Resume Clients with Audrey Prenzel
Using Charts and Graphs in the Resume with Jennifer Hay
Attracting a Crowd with Your Free Taste Test with Kim Avery
Behavioral Competencies Three Components & Interviewing with Fred Coon
BioFlyer & Armageddon Resume with Donald Burns
What a Social Media Campaign Can do for a Job Seeker with Cheryl L Simpson
Roadmap for Social Media Job Search Campaign with Cheryl L Simpson
Winning Business by Winning Resume Awards with Laura DeCarlo
A Changing Era for Career Management with Martin Yate
Twitter Resumes in MS Word – Advantages & Disadvantages with Jennifer Hay
Importance of Industry Credentials & TORI Awards to Build Your Business with Laura Smith-Proulx
S.C.A.R.F. with Fright, Flight, Fight in Job Search with Susan Whitcomb
How ATS Works with Robin Schlinger
How to Create a Hook in a Resume Job Description with Laura DeCarlo
CDI is already gearing up for our 2014 Global Career Empowerment Summit. Details will be made available soon.
About CDI: Career Directors International – http://www.careerdirectors.com
CDI is a global organization that positions career and resume professionals for dynamic success. CDI is focused on championing the industry's cause for credibility and visibility; fostering exceptional success in every generation of career and resume professionals; and cultivating the career superhero that exists within each one of us.