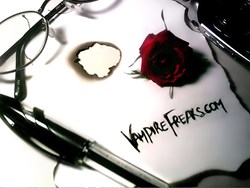 I'm not sure Goth is dead in North America... yet.
Brooklyn, New York (PRWEB) October 30, 2013
We've all seen and heard the growth in dark, alternative themes within music, clothing, books/graphic novels, advertising, toys, make-up and every other consumer industry in North America and frankly around the world. The popularity of horror, Goth, macabre genres can partly be attributed to Hollywood for pumping out Vampire and Zombie visual entertainment products. We've also seen a decline in Halloween sales and promotions in 2013.
Yet, the sub-culture, which arguably started the trends in studs/rivets/spikes, skulls and the dark aesthetic in art, gaming and other industries, has actually seen a precipitous decline in the years since these same themes have substantially caught on with mainstream cultures. Vampirefreaks, the largest Goth and Industrial social site on the web, with over 7.3 million members since its creation, underwrote a study to determine if this was in fact a decline, evolution of the sub-culture or the death of Goth altogether.
The founder and president of 13-year-old Vampirefreaks, Jet Berelson, wanted to know why this might be the case and what can be done to revive Gothdom if it was. His primary questions revolved around whether municipalities' efforts to clean-up cities and suburbs and the co-opting of Goth attributes by other genre like Hipsters and Tweens, were the main reasons, or whether infighting, the recession and other issues had a hand in the changes that have been taking place.
The Report outlines what was once a thriving global Goth community of some 300 million members, now believed to be less than a third of that. Definitions of what makes up the Goth community, its many sub-genres, music acts, art, gaming and other categories are all outlined in the report. Curiously, while the core of the dark community has seen a significant drop, those that don't consider themselves Goths, but enjoy all the trappings of the dark aesthetic in music, products and lifestyle, has seen a far more significant increase over the same period. Has Goth gone mainstream? Are retailers and manufacturers tapping into the dark side of the product market to create edgier products and are they marketing to younger audiences?
"I'm not sure Goth is dead in North America," Jet replied when asked why he underwrote the report. "We wanted to see what our millions of members were doing. Where they were shopping. What their interests were and whether their views had changed as the market introduced so many dark themed products".
Jet went on to say; "We've seen a sharp drop in Goth representation in major markets like New York and San Francisco, yet other secondary markets have seen a sharp increase in the communities and their lifestyle interests".
The community may be in flux in North America, but long-standing groups in Western and Eastern Europe as well as in Australia, South Africa and some Asian countries have seen a rise in interest in the Goth culture and it's many sub-genres. This poses a significant challenge to those marketing to the Goth communities around the world and in North America. Beyond the global recession that hit in approximately 2008, the factors that affect these people were important to analyze and are all covered in the Report.
The State of the Goth / Industrial Community Report outlines a number of economic, demographic, religious and cultural aspects that have attributed to these less than subtle changes. As with any evolution, some species survive and others don't, yet their impact will always be felt and this Report shows how deep the influence of the Goth culture has affected the entire North American and global psyche, with coverage of all of the industries mentioned above, not specifically those related to Goths.
About Vampirefreaks.com: VF was founded over 13 years ago by software engineer and computer programmer, Jet Berelson. The initial effort was simply to create a safe place for Goth's of all kinds to interact with each other without judgment from "normals". By adding profiles of over 12,500 musicians and bands that serve the Goth community, fans, users and supporters of the site grew it to over 7.3 million people and helped it establish a site offering a wide array of dark Gothic clothing, gifts, toys and accessories to satisfy the fashion, make-up and culturally oriented needs of it's members.