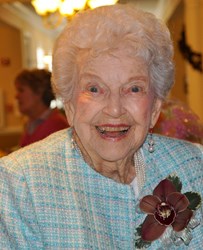 I am happy to remain healthy and active at my age, while surrounded with friendly people and family.
PAWLEYS ISLAND, S.C. (PRWEB) November 01, 2013
The Philanthropic Educational Organization's (PEO) Chapter AL of Pawleys Island threw member Margaret Wilson a 100th birthday party at The Lakes at Litchfield retirement community.
In 1869, seven women at Iowa Wesleyan College founded PEO as a secret organization which encouraged women's opportunities. Today, PEO has grown to a membership of nearly 250,000 members in chapters in the United States and Canada. PEO offers countless scholarships, grants, and loans to women for undergraduate and graduate studies each year.
Wilson became a member of PEO 15 years ago while living in Sun City, California. She is a firm believer in the PEO's mission of advancing women through the power of education, "I believe we can achieve anything we put our minds to."
"Wilson is just a wonderful woman. I am enchanted by her spirit," said Chapter AL President Chris Harding, who was also the organizer of the event. She was particularly looking forward to speaking with Wilson about the changes in the PEO, saying, "I was curious to find out how the PEO has transformed in the years of Wilson's involvement. It is only recently that the organization has not been kept a secret."
Members of the Chapter AL including Wilson's daughter, Beth Ottinger, gathered in The Lake's at Litchfield's private dining room to not only celebrate Wilson's birthday, but also have their monthly meeting.
Wilson was touched by the celebration. She said, "I am happy to remain healthy and active at my age, while surrounded with friendly people and family."
About The Lakes at Litchfield
The Lakes at Litchfield is an all-inclusive, continuing care retirement community (CCRC) on Pawleys Island, S.C. The community's care-free lifestyle helps members live longer, healthier and happier lives by offering an array of amenities including maintenance-free living, daily fine dining, weekly housekeeping, a nationally recognized wellness program and continuing-care health services. Members can choose from a variety of floor plans including single-family cottage homes and condominium-style villas. Assisted-living, Alzheimer's care and skilled-nursing rooms are also available for those who need to make a transition from independent living. More information about The Lakes at Litchfield is located at http://www.Lakes-Litchfield.com.