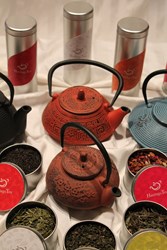 Hastings Tea takes great pride in the custom-sourced premium organic teas, such as Imperial Iron Goddess Oolong and Matcha Infused Sencha green tea; our fruit, flower and herbal tea blends..."
White Plains, NY (PRWEB) October 30, 2013
Hastings Tea, the first tea lounge and boutique in downtown White Plains, invites area shoppers to leave their frenzied world behind and open the Hastings Tea door to serenity and relaxation during the holiday season. In addition to serving natural and organic teas, and expanded by-demand coffee items, the menu now includes blended drinks, using their proprietary recipes. Hastings Tea is kicking off the holiday season on Black Friday, November 29, with a holiday boutique of unique gift selections and gift baskets.
"We created Hastings Tea for tea aficionados, who want a great cup of freshly brewed tea, as well as for other hot and cold beverage lovers, looking for a refined space where they can relax, unwind and enjoy a refreshing drink," says Joan Jia, co-owner of Hastings Tea. "We take great pride in our custom-sourced premium organic teas, such as Imperial Iron Goddess Oolong and Matcha Infused Sencha green tea; our fruit, flower and herbal tea blends; and our Signature drinks, that combine tea with natural ingredients like fresh ginger, honey, lemon, mint, and crushed fruit."
Described on Yelp as a "tea place with a coffeehouse vibe," Hastings Tea enhances the tea experience with tea sommeliers, table service in beautiful cast iron pots, a choice of tea-friendly desserts that include traditional, or gluten-free and dairy-free bakery items from variety of local bakeries. Freshly made sandwiches, salads and soups will be added shortly for customers to grab and go. In addition to take-out service, the tranquil setting features lounge chairs positioned at the Main Street window and tables and chairs that encourage quiet conversation. A waterfall wall adds a soothing touch. With free WiFi and plenty of outlets, visitors can recharge their devices, while recharging themselves.
"We also welcome coffee drinkers, who give our coffee, lattes and espresso rave reviews," notes Jia. "They appreciate the escape from their frantically paced world into the quiet sophistication of our lounge."
The holiday boutique offers gifts for all budgets, including tea and tea assortments in gift tins, as well as tea pots, mugs, cups, gift sets and specialty gift baskets. Holiday hours are Mon-Wed 8am-6:30pm, Thur-Fri 8am-9pm, Sat 11am-9pm, Sun 11am-6:30pm, starting November 7th 2013.
Jia is committed to further educating tea drinkers with a series of book author presentations, tea tastings, food and tea pairings, and other special programs. Also available are tea parties for groups, tea service for corporate events, and wholesale pricing and delivery to area restaurants.
Hastings Tea is located at 235 Main Street in downtown White Plains, across from City Center, 914/428-1000, http://www.hastingstea.com, Facebook.com/HastingsTea, twitter.com/HastingsTea.
About Hastings Tea
Launched in June of 2013, out of a life-long passion for fresh, custom blended, organic tea, Hastings Tea Lounge and Boutique Store was born in the heart of White Plains, NY. The owners, Joan Jia and Robert Peirce, are longtime residents of Westchester and sustain careers in financial and legal services, as well as their tea lounge. Ms. Jia handles the shops' social media and tea buying personally, and hopes one day to become known as the area's tea connoisseur and wholesale provider. Hastings Tea features a welcoming, upscale atmosphere, a broad selection of tea and coffee beverages, and a wide variety of premium loose teas.
Real Tea. Real Taste. It's About Time.