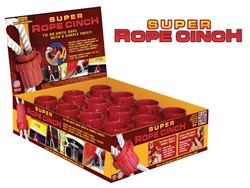 The best invention since the bungee cord, only much safer.
Nashville, Tenn (PRWEB) November 01, 2013
The growing popularity of the Super Rope Cinch is driven by nothing more than the fact that it is indeed a very functional product, with that functionality resonating throughout the entire Georgian consumer market, attested to by a plethora of reorders by many of the 72 stores in just this one market. While every indication suggests that this sales boom is going to continue gaining speed, perhaps a closer look at reasons behind such popularity will highlight the importance of simply selling a product that solves a real everyday challenge.
"People tell us all the time that this is the best invention since the bungee cord, only much safer," according to Drew Bourke, Vice President of Just Right Products LLC.
While the Super Rope Cinch is a simplistic rope fastening device and rope-companion never before seen in the world, it was deployed to eliminate the need to spend time tying and untying knots. It is its universal usefulness in saving time and headaches that really stands out, especially among those consumers who use the Super Rope Cinch in their professional work, like in the construction and goods moving industries.
The domestic market is also a major contributor to the soaring sales of the Super Rope Cinch, in Georgia's many Home Depot Stores, as it proves to be just as useful to do-it-yourselfers, travelers and all others who may have come across the daunting task of having to secure anything with a rope.
With its functional usefulness and simplicity in application accounting for features such as vertical and horizontal pressure support of hundreds of pounds, the Super Rope Cinch sales spike is sure to spread beyond the borders of Georgia's Home Depot Stores, very soon.
About the Super Rope Cinch
Created by Just Right Products LLC, the Super Rope Cinch secures rope using a simple twist. The rope is released with the simple press of a release button, offering seamless handling to complement the horizontal/vertical load pressure-holding capabilities that come with this simple rope-fastening device.
Learn more about the Super Rope Cinch rope fastening device by visiting http://www.SuperRopeCinch.com, or http://www.JustRightProductsLLC.com.