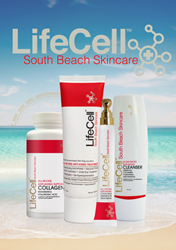 Miami, FL (PRWEB) November 01, 2013
South Beach Skincare, Inc., an international skincare magnate announced today that their brand, LifeCell, will be available for purchase in all Latin American countries November 5th.
CEO of South Beach Skincare, Chris Suarez issued this statement about the company's plans to expand:
"Next Friday will be a huge step for us – not only for our brand, but for our legacy. This was certainly not a sudden decision, either. For years, we've recognized the interest in LifeCell among Latin America, but it wasn't until now that we were able to distribute and ship to those customers the best way possible. Our goal is to show the world that anyone can have youthful skin at any age! With all the t's crossed and I's dotted, this time around I believe LifeCell is on its way to becoming a global phenomenon."
The full list of countries LifeCell will be available in: Costa Rica, Colombia, Bolivia, Mexico, Panama, Venezuela, Argentina, Peru, Puerto Rico, Bolivia, Chile, Brazil, Cuba, Dominican Republic, Ecuador, El Salvador, Guatemala, Haiti, Honduras, Nicaragua, Paraguay, and Uruguay.
About South Beach Skincare
South Beach Skincare is changing the way anti-aging is viewed within beauty. Through a delicate, yet potent combination of beauty and clinical-standard ingredients, they've managed for nearly a decade to create anti-aging essentials which to this day remain unmatched. Stagnant in their position against animal cruelty, all of their products have been certified Cruelty Free by PETA (People against the ethical treatment of animals).
To find out more about South Beach Skincare, visit the company's website at http://www.Lifecellskin.com.
Follow us on social media:
*Facebook: @LifeCellUSA
*Twitter: @LifeCellUSA
*Pinterest: @LifeCellUSA
*Google Plus: @LifeCellUSA