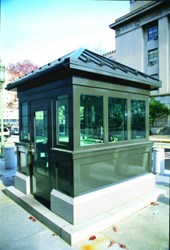 Los Angeles, CA (PRWEB) November 01, 2013
B.I.G. Enterprises, Inc. (http://www.bigbooth.com) recently designed and manufactured a custom guard booth to help protect facilities near our nation's capitol. The robust design helps support the security mandates that are a part of the new normal in sensitive government areas. The unique design named The Commonwealth, melds security, functionality, durability, and architectural integrity into a single, pre-fabricated security booth. The Commonwealth is a model that arrives pre-wired and painted for convenient on-site installation.
The Commonwealth is aesthetically attractive, yet bullet-resistant throughout to meet the threat level required by the client. The thoughtful, yet restrained booth design complements the classic nature of surrounding buildings.
The unit features architectural wall panels prepped to receive the granite applied to the base, commercial flooring covered with industrial rubber tiles and base cove, swing-out door with all stainless steel hardware, and full length stainless steel hinge. Interior lights are recessed in an acoustical tile ceiling, with the grid fabricated from 16ga. galvanized steel, welded in place for longevity.
This unit features a galvanized steel standing seam roof deck, and snow guards that surround the roof on all sides. In addition, B.I.G. offers a 30-year warranty on the Kynar 500 roof coating.
The B.I.G. unit combines a high level of ballistics resistance with other amenities such as: a two-ton ductless split system HVAC with ceiling-recessed interior unit, commercial steel-framed shelving covered with durable, solid-surface Corian, complete pre-wired electrical package, data, communication, gate & barrier control J-boxes and conduit, insulated walls, roof, and floor. Topping the package off is B.I.G's high-solids polyurethane paint finish that exceeds a 3500-hour salt exposure test.
The Commonwealth model proves that security booths don't have to be imposingly monolithic in style to be effective. B.I.G. design experts have developed aesthetically-pleasing models for such diverse groups as: Special Forces departments, the Smithsonian, nuclear plants, airports, chemical plants, and all divisions of the U.S. Armed Forces.
B.I.G. Enterprises also fabricates guard shelters incorporating extra protection from chemical, biological, radiological, and nuclear threats via an industry-exclusive process of filtration and pressurization. B.I.G. booths, shelters, and security command centers are tough, innovative, and enduring. They provide a platform for creativity, security, and maximum flexibility.
"We build booths that are essentially 'plug and play' when they're transported and installed on site. This approach can add up to significant savings for our customers while providing the highest levels of security-sensitive construction." – David King, B.I.G. Enterprises
About B.I.G. Enterprises:
Since 1963, B.I.G. Enterprises, Inc. of California has engineered and manufactured a comprehensive line of high quality, high-end, prefabricated security and revenue control booths. Their state-of-the-art selection of pre-assembled buildings include: guardhouses, cashier booths, portable shelters, and a variety of custom-made kiosks.