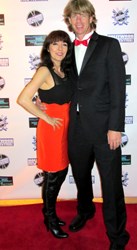 We are still making changes to the 'Old River Road' screenplay before entering pre-production. Now, with 'Soup Kitchen' also being well-received at festivals, we are asking ourselves: in the future, should we focus more on comedy or drama?
Los Angeles, CA (PRWEB) October 31, 2013
After the success of the action drama feature screenplay 'Old River Road,' which won the 'Award of Excellence in Screenwriting' at the Canada International Film Festival and 'Best Drama Screenplay' at the Action on Film International Film Festival, Luciana Lagana and Gregory Graham have garnered praise for their skills in comedy writing.
The screenwriting duo's script, 'Soup Kitchen,' a sexually charged comedy/spec script for the TV show 'Californication,' placed third in the Atlantic City Cinefest/Downbeach Script Competition. It also received two award nominations, for best comedy and best teleplay, at the 2013 Action on Film International Film Festival. This script offers an intoxicating blend of humor, desperation, romance, and yes, even kink.
"We are still making changes to the 'Old River Road' screenplay before entering pre-production. Now, with 'Soup Kitchen' also being well-received at festivals, we are asking ourselves: in the future, should we focus more on comedy or drama?" asks Luciana. Gregory is more of a fan of action/crime movies than she is, but this did not stop her from writing most of the intense scenes in 'Old River Road.'
"Whenever a script calls for intensity, of any kind, I am there!" she muses.
What has this dynamic duo been up to lately? Gregory has been developing a pilot for a TV talk show, 'Unforgettable Memories.' The content was motivated by the fact that his beloved mother has recently been diagnosed with dementia. "I would love to get this show produced and to dedicate it to my mother," says Gregory.
Luciana has been very busy with her psychology professorship at California State University Northridge (CSUN). "I am teaching four classes this semester and three classes next spring. They cover sexuality as well as aging. Concerning research endeavors, I just had two peer-reviewed articles published this fall, one on reducing depression in older adults via training them on computer and Internet use, and the other on the sexuality of older African-American women residing in Los Angeles," she reveals. "Additionally, I am waiting to hear back from journal editors about four more manuscripts currently in review: I wrote one of them with my Stanford research collaborators (on sexual problems of couples living with breast cancer), and the other manuscripts are the result of my collaboration with several CSUN students and colleagues."
It is clear that Luciana loves writing; she has over 30 academic publications. "Writing for movies and TV is liberating, and it is pushing further and further back in my mind the memory of what my first academic advisor told me when I started writing academic articles: 'Come on, you are not writing a novel, this is science!', referring to my non-academic writing style when I first moved to the U.S. to pursue graduate school. I had to make a series of adjustments to write for a scientific audience; my natural style is funny, zesty, and unconventional. It is nice to feel free to write whatever I want and assign all kinds of emotions and actions to fictitious characters. In 'Soup Kitchen,' I wrote some sexual scenes depicting circumstances that are both funny and awkward," she admits.
In addition to screenwriting, Luciana is still interning at KFI AM 640 talk radio with Michelle Kube, the executive producer of the highly successful 'Bill Handel' radio show, as part of the requirements for her radio broadcasting certificate. She is also studying TV hosting, together with Gregory, under the mentorship of Marki Costello. "Whenever I have extra time from my beloved academic job, I work on radio and TV hosting, screenwriting, and acting, not always in collaboration with my husband," she says. In this regard, this year she has booked acting jobs in two SAG-AFTRA webseries and in several independent short and feature films.
As for Gregory's 2013 acting endeavors, he has acted in many independent projects and has been tapped to play the lead, Stan, in the drama 'Natural Born Filmmaker'. This is a feature film in pre-production on the tribulations of working in the entertainment industry for producers, directors, and actors alike. "I am excited to have booked this part and cannot wait to start shooting. I am also happy that our two scripts are faring well on the festival circuit," concludes Gregory.
Written by Matthew Terhune, MFA, creative writer
Luciana Lagana is a caring clinical psychologist and an established professor of psychology, sexuality, and gerontology at CSUN, where she teaches classes and mentors many students. At CSUN, she also conducts government-funded research on ethnically diverse, primarily low-income older women's physical, psychological, social, and sexual health. Additionally, Luciana is an award-winning actress/screenwriter and has 32 IMDb credits for acting in many independent movies and TV series since 2006. Gregory Graham, her husband, is a businessman, an award-winning screenwriter, and has been an actor since 2000. He has 42 IMDb credits and has acted in several movies as well as TV series such as "CSI Miami" and "Trust Me."