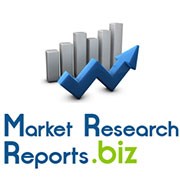 Albany, NY (PRWEB) November 05, 2013
Global Commercial Aircraft Avionics Systems Market 2012-2016
TechNavio's analysts forecast the Global Commercial Aircrafts Avionics market to grow at a CAGR of 4.12 percent over the period 2012-2016. One of the key factors contributing to this market growth is the increasing demand for aircraft in the APAC region. The Global Commercial Aircrafts Avionics market has also been witnessing the increase in demand for low-maintenance avionics systems. However, the increase in raw material prices could pose a challenge to the growth of this market.
To check out the complete table of contents, visit: http://www.marketresearchreports.biz/analysis-details/global-commercial-aircraft-avionics-systems-market-2012-2016.
TechNavio's report, the Global Commercial Aircrafts Avionics Market 2012-2016, has been prepared based on an in-depth market analysis with inputs from industry experts. The report covers the Americas, and the APAC and EMEA regions; it also covers the Global Commercial Aircrafts Avionics market landscape and its growth prospects in the coming years. The report also includes a discussion of the key vendors operating in this market.
The key vendors dominating this market space are Honeywell International Inc., Panasonic Avionics Corp., Rockwell Collins Inc., and Thales SA.
Other vendors mentioned in the report are BAE Systems, Inc., Becker Avionics Int., DAC International, Inc., Esterline Technologies Corp., GE Aviation, L-3 Communications Avionics Systems Inc., LX Avionics Ltd., Saab AB (publ), Samtel Avionics & Defence Systems, Shadin Avionics LP, Southern Avionics Co., and Universal Systems Avionics Corp.
Click Here To Download Detail Report: http://www.marketresearchreports.biz/sample/sample/177685.
Key questions answered in this report:

What will the market size be in 2016 and what will the growth rate be?
What are the key market trends?
What is driving this market?
What are the challenges to market growth?
Who are the key vendors in this market space?
What are the market opportunities and threats faced by the key vendors?
What are the strengths and weaknesses of the key vendors?
TABLE OF CONTENT
1. Executive Summary
2. Scope of the Report
3. Market Research Methodology
4. List of Abbreviations
5. Introduction
6. Market Landscape
7. Product Segmentation
8. Scheduled Airliners Segmentation
9. Geographical Segmentation
10. Buying Criteria
To buy the copy of this report, visit: http://www.marketresearchreports.biz/analysis/177685.
11. Market Growth Drivers
12. Drivers and their Impact
13. Market Challenges
14. Impact of Drivers and Challenges
15. Market Trends
16. Trends and their Impact
17. Vendor Landscape
18. Key Vendor Analysis
19. Other Reports in this Series
Latest Reports:
Electric Boats, Small Submarines and Autonomous Underwater Vehicles (AUV) 2014-2024: http://www.marketresearchreports.biz/analysis-details/electric-boats-small-submarines-and-autonomous-underwater-vehicles-auv-2014-2024
Ten year forecasts
Marine electric vehicles are now a rapidly growing market due to new capability, affordability and legislation banning or restricting internal combustion engines. Our research finds that the market for electric water craft, including those on and under water, will increase rapidly from $2.6 billion to $6.3 billion in 2023. In addition, there is a market for electric outboard motors that will more than triple in value as high power pure electric versions become increasingly viable. There is also a new market for water borne electric aircraft.
Scope of coverage
This report covers marine electric vehicles hybrid and pure electric, on-water and underwater, inland and seagoing. It covers the closely allied topics of electric outboard motors and electric planes operating from water and even has some mention of electrification benefiting conventional craft. Overall, it encompasses leisure, military, industrial, commercial and other applications and the technology trends.
Click Here To Download Detail Report: http://www.marketresearchreports.biz/sample/sample/177264
Marine electric vehicles make new things possible and increasingly, they have lower cost of ownership and are the only practicable way of meeting the newer, more onerous pollution regulations for inland waterways and harbours. Marine electric craft are increasingly made by existing shipyards making conventional craft but there is also a trend for those making land or airborne electric vehicles to make marine ones as well. Sometimes, we see Apple levels of innovation with new entrants, something notably absent with such things as electric cars. As with all electric vehicles, the advances in the components in these vehicles and their infrastructure are proceeding disruptively rather than incrementally and the report discusses this in the marine context.
3D Printing Materials 2014-2025: Status, Opportunities, Market Forecasts: http://www.marketresearchreports.biz/analysis-details/3d-printing-materials-2014-2025-status-opportunities-market-forecasts
3D printing is currently the subject of a great deal of speculation and excitement in the media. Touted as the technology to bring about the next industrial revolution and the in-sourcing of manufacturing jobs back to the West, the term in fact refers to a raft of technologies each of which is compatible for use with a particular material type.
In fact, the materials market for 3D printing is possibly the most contentious issue in the 3D printing industry today. 3D printer manufacturers are increasingly engaging in practices which are perceived by end-users as anti-competitive by locking customers in to their own materials supplies via key-coding and RFID tagging of material cartridges, an activity which is effectively enabling monopoly pricing of the materials concerned.
Development of new materials for 3D printing is hindered by the practice of lock-in by some 3D printer manufacturers. Barriers to entry for 3rd party materials suppliers are high, and those who do enter the market are unable to get the economies of scale required to accelerate both materials development and progress towards a competitive market.
In the short to mid-term, downwards pressure on materials prices will be driven mainly by new entrants to the 3D printer manufacture arena that do not engage in lock-in practices and enable customers to source materials from the supplier(s) of their choice, and also by pressure from large end-users wielding buying power to force prices down.
Click Here To Download Detail Report: http://www.marketresearchreports.biz/sample/sample/177081.
This report gives forecasts to 2025 for the following materials supplies:
Photopolymers
Thermoplastics in solid form (ie. filaments and pellets)
Thermoplastics in powder form
Metal powders
Powder-bed inkjet powders
About Us
MarketResearchReports.Biz is the most comprehensive collection of market research reports. MarketResearchReports.Biz services are specially designed to save time and money for our clients. We are a one stop solution for all your research needs, our main offerings are syndicated research reports, custom research, subscription access and consulting services. We serve all sizes and types of companies spanning across various industries.
Contact
M/s Sheela
90 Sate Street, Suite 700
Albany, NY 12207
Tel: +1-518-618-1030
USA – Canada Toll Free: 866-997-4948
Website: http://www.marketresearchreports.biz/
Blog: http://industry-research-reports.blogspot.com/