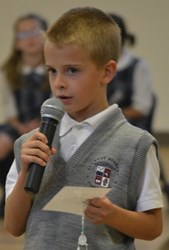 Lemont, IL (PRWEB) November 07, 2013
The Catholic devotion of praying the rosary is alive and well at Everest Academy of Lemont. Every year the students celebrate the Feast of the Rosary by praying the Rosary together as a school community. The student body physically created a strand of rosary beads made up of students. The community then spent time in prayer and reflection reciting the prayers of the rosary led by students from kindergarten through eighth grade. This prayer reminds the Everest students, as Pope Francis recently suggested, to see God's wondrous works in their lives and to have hearts of service.
The prayer of the Rosary is based upon the gospels and the life of Jesus Christ and is a means that can draw us closer to Jesus and to His mother, Mary. The Everest Academy students begin to learn the prayers of the rosary in prek3. Regular visits to the chapel are where the young students learn to change the world one prayer and one bead at a time.
Everest Academy is an independent Roman Catholic school in Lemont educating children from preschool through eighth grade. The teachers and staff are dedicated to forming the whole child by providing the highest level of academics, by building strong character, and by preparing generous leaders ready to serve the community. If you would like to learn more about Everest Academy's unique approach to education, please contact KC Wollenberg at 630-243-1995 or visit http://www.everestadvantage.org.