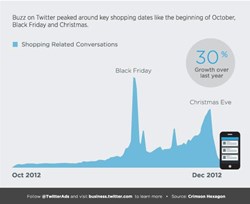 Experts say holiday spending will increase by 11% this year, so it makes sense for retailers to rethink their electronic media strategy. -- Tracy LeRoux, Founder The Link Agency
Barrington, RI (PRWEB) October 31, 2013
While it's no surprise that many people are gearing up for the holiday shopping season, a recent Crimson Hexagon/Twitter survey showed 45% of persons asked preferred Twitter over their spouse as a shopping partner. Indeed, shoppers said they tweet each other for advice and 64% of them bought a product as a result. The survey included 2,000 holiday shoppers, with more than half saying they use Twitter regularly.
"A report from Experian shows 55% of all major brands use email as a marketing tool," said Tracy LeRoux, Founder and CEO of The Link Agency. "Experts say holiday spending will increase by 11% this year, so it makes sense for retailers to rethink their electronic media strategy in light of this information."
Facebook is another prime source for gift ideas, according to Crowdtap, with 39% of consumers asked turning to the social network for recommendations from friends.
And if there's any doubt that it makes monetary sense to pay attention to last minute shoppers, the National Retail Federation reports that 20 – 40 % of yearly sales for small and mid-sized retailers take place in the last two months of the year.
About The Link Agency:
The Link Agency, Inc. is a national advertising and marketing communications firm located in Rhode Island and offering scalable marketing solutions to help businesses and non-profits grow.