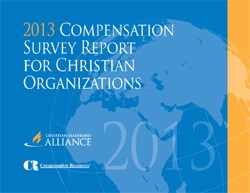 Combined, the CEO, COO, and CFO salaries increased 2.9% from 2011 to 2013.
Upper Saddle River, NJ (PRWEB) November 04, 2013
Compensation Resources, Inc. (CRI) and Christian Leadership Alliance (CLA) have released their 2013 Compensation Survey Report for Christian Organizations. Along with salary and bonus data on 119 jobs, the survey also captured benefit information including insurance coverage, paid time off, retirement plans, turnover, work – life, etc. The data is reported in 8 industrial classifications covering Christian-based organizations, and also by revenue, employee size, and region. Various statistical measures are reported, such as the average, median, and percentile data for each position.
Survey Findings
The Big 3 (CEO, COO, CFO)
Combined, the Big 3's salaries increased 2.9% from 2011 to 2013, with Parachurch organization salaries increasing the most (2.9%). The combined eligibility to receive a bonus was 34.9%. For those receiving a bonus, the percentage did go down a couple percentage points to 5.7% of salary.
Other Key Findings
There is a heavy reliance (an average of 88.7% of participants) on the use of published surveys for establishing the market value for their jobs. Another interesting finding is that 83.5% of the participating organizations do not have a bonus/incentive plan in place. For the organizations that do have it in place, just under half (47.1%) provide a discretionary bonus.
Looking at the merit increase numbers reported in the 2012 survey, the 2013 projected increase was a combined 2.2% across all job groups. In this year's survey, the actual 2013 increase reported by participants came out to be the same number as the projected figure. The combined 2014 projected merit increase is 2.4%, showing a slight increase over 2013.
If you would like to learn more about the 2013 Compensation Survey Report for Christian Organizations, or to order the complete report, please contact Andrew Sellers at (877) 934-0505 x115 or log onto http://www.CompensationResources.com. There is a free downloadable .pdf sample of the survey on the website.
About Compensation Resources, Inc. (CRI): CRI provides compensation and human resource consulting services to mid- and small-cap public companies, private, family-owned, and closely held firms, as well as not-for-profit organizations. CRI specializes in executive compensation, sales compensation, pay-for-performance and incentive compensation, performance management programs, and expert witness services.
Christian Leadership Alliance unites, trains, and equips Christian leaders to think higher for greater kingdom gain. CLA moves beyond good Christian management to empower Christian leadership that is catalytic in its transformation of people, their organizations, and ultimately the world. CLA is an alliance of mission focused Christians who lead in today's high-impact Christian nonprofit ministries, churches, educational institutes, and businesses.
For more information about becoming a member, please contact CLA at (949) 487-0900 or visit us at http://www.ChristianLeadershipAlliance.org.