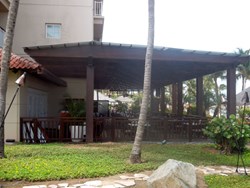 Thanks to Bird Barrier and Professional Pest Control we now have the first completely bird-free restaurant in Aruba.
Carson, CA (PRWEB) November 02, 2013
Bird Barrier announces a successful installation of the company's flagship product, StealthNet. The innovative design of this bird control system by the pest control experts at Professional Pest Control of Aruba protects the restaurant's patrons without obstructing their beachside view.
A resident flock of sparrows, starlings, pigeons or maybe even an exotic bird species has made themselves just as comfortable, in fact more so. They also look forward to their breakfast or lunch, and are quite at home on the tables, chairs, umbrellas, floor and even the food stations where you are about to grab that tasty croissant. In some restaurants they are so aggressive they can land on your table, while you are sitting there, and steal food from right in front of you.
You don't have to be an ornithologist (bird expert) to figure out this is a bad situation. It's unhealthy, exceedingly annoying and even dangerous, and nobody I've ever spoken to wants to repeat the experience after his or her first time.
For their part, the hotels are just as frustrated as the customers, maybe even more so. They are the ones who try to shoo the birds away, post "Don't Feed the Birds" signs, clean up after them, refund meals (expensive), and try to think of clever ways to eliminate, or at least reduce, the problem.
Mr. Marin Bijl, the manager of the Divi Aruba Beach Resorts in Aruba, had been struggling with this exact problem for years, and really felt as if he'd tried everything. "I'd tried noise makers, smelly fogs, spikes, fake owls, sticky gels, everything, and nothing worked," he said.
Luckily, help was just around the corner. Mr. Holwerda's pest control company, Professional Pest Control of Aruba, had just received training from Bird Barrier America, Inc., a US based manufacturer of bird deterrent products, and they had specifically addressed this issue. In fact Cameron Riddell, Bird Barrier's president, visited several of the hotels in Aruba and witnessed the problem himself. "It was bad, but nothing I hadn't seen before," Mr. Riddell stated. "Sometimes I'm at these sites on business, but sometimes I'm on vacation with my family, and know first hand how annoying this can be. There's nothing worse than sitting down on a chair with a fresh deposit of bird droppings," he continued.
One of Bird Barrier's main products is StealthNet exclusion netting, which is used to keep birds out of all sorts of buildings, like airplane hangars, warehouses, etc. StealthNet. It is thin yet strong, and made from UV stabilized polyethylene twine. It is secured to a building using a variety of different attachments, and when it is installed properly it is almost invisible. StealthNet is also available in a variety of different colors, although black is actually the least visible.
When used at an outdoor restaurant the concept is simple, use the StealthNet and the structure to build a bird-free zone, like a birdcage, that the birds can't get in to. Then sit back and relax as the diners enjoy a relaxing meal, oblivious to the hell that is being unleashed at the hotel just a few hundred yards down the beach.
Hans Holwerda, General Manager of Professional Pest Control started proposing this solution to Aruba hotels, and has now provided the service to several hotels there, including the Hyatt, Marriott and Radisson.
"Most hotel managers were dead set against the idea," said Holwerda. "They felt their customers would feel like they were sitting in a box, that it would ruin their breakfast in paradise." But he was undeterred. He showed them photos of similar applications, and even put up a few pieces of sample netting to demonstrate how it virtually disappeared. "Finally," he says, "one of my customers said OK. I think he had just refunded a full table's bill and was really upset. The timing was great."
The Professional Pest team designed a system, and showed the manager where the netting would be by drawing over a photograph on their computer. They ran thin stainless steel cable as the framework and attached the netting to that using special net rings. They also built doorframes and hung thin wires with metal balls, like a beaded curtain, to stop the birds flying, or even walking in.
"Thanks to Bird Barrier and Professional Pest Control we now have the first completely bird-free restaurant in Aruba, resulting in improved guest satisfaction and a huge number of great guest comments on trip advisor," said Marin Bijl, the General Manager of Divi Aruba Beach Resorts. And, according to Bijl, the customers (especially those who had experienced the birds in the past) rave to him personally about their peaceful, bird-free meals.
"These are always custom installations," says Bird Barrier's Riddell. "Sometimes the architecture presents us with challenges, but we can usually overcome them with some clever design, a little custom fabrication, and a restaurant manager who is willing to do what it takes to get rid of the problem."