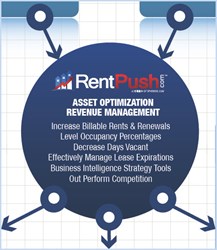 Our shared customers will benefit from the integration. - Elizabeth Francisco, COO
Dallas, TX (PRWEB) October 31, 2013
Clients of both ResMan and Spherexx.com are moving into a new era of streamlined adaptability with Spherexx.com's ILoveLeasing.com Apartment CRM, RentPush.com® Revenue Management, website and other Internet marketing services. The partnered data exchange will increase work flow and strengthen compliance for shared services.
Multihousing Property Management is an industry that serves people in all walks of life with busy schedules that are easily disrupted. Multihousing professionals require flexible and intuitive software to maintain the fiduciary aspects of property management while constantly being at the service of prospects, residents, employees, municipalities and more. The founders of Spherexx.com understand that initiative very well, having birthed the ad agency, software development and Internet marketing company from many years of direct property management experience.
"All of our products and services are created from our client's questions, feedback and wish lists, along with our observations. For example, ILoveLeasing.com was created because one of our website clients asked why, as their new Spherexx website brought them massive leads, leasing did not keep up with the prospect pace. We solved the problem by making leads 'lost proof.' We are always looking for ways to enhance our web and software services, including mutually beneficial integrations. ILoveLeasing.com is now far more than prospect engagement software. It creates advertising feasibility studies, advanced performance indicators, performs portfolio-wide analytics and more," says Becca Wilson, President of Spherexx.com.
ResMan Management Software also sprung from property management leaders that sought to make property management accounting simple, versatile, and accessible with three clicks to critical data. Additionally, it is cost-effective with no long-term contracts required for implementation. Neither ResMan nor Spherexx.com requires integration fees, which is unique to the industry by all standards. "Our shared customers will benefit from the integration due to the ease of use, increased productivity and NOI growth," stated Elizabeth Francisco, ResMan COO. "The ResMan team is very excited about the completing of the integration with ILoveLeasing.com and RentPush.com."
Data exchange between ResMan and RentPush.com secures algorithmic revenue management rate compliance and automatically updates financial data. The leasing and lease renewal process is streamlined and requires less monitoring since price deviation is not possible and occupancy and leasing details resonate with real-time accounting data. The integration is scheduled to finalize the last week of October, 2013.
About ResMan®
ResMan®, a cloud-based residential management application, provides the core solutions required for effective property management. Receivables, payables, maintenance, resident portal and financial reporting are all provided in one complete package for one price. Developed by over 50 tenured multifamily management professionals, ResMan® has evolved over the last 13 years from a desktop application to a progressive SaaS (Software as a Service) solution specifically designed for residential property managers and owners. ResMan® gives multifamily professionals and their associates the ability to make better, faster decisions and access information from virtually anywhere, anytime.
For information, visit http://www.iwantresman.com or call 855-ResMan 1 (855-737-6261)
About Spherexx.com®— Advertising Agency | Software Development | Data Centers
Spherexx.com is recognized as an established leader in the apartment industry for website, Internet marketing and software development services since 2000. With offices located in Tulsa, Dallas, and Houston, the company has been distinguished as one of INC5000's fastest growing companies. Spherexx.com is a recipient of the International Summit Creative Award 2012 for creative and communication excellence and the Internet Advertising Competition award for best real estate website. Spherexx.com is also a 2013 Webby Honoree.
Spherexx.com offers a wide selection of professional services including web design and development, touchscreen kiosks, Internet lead generation tools, online advertising, consulting, advanced mobile technology, apartment lease-up marketing consulting, and search engine performance. The company also provides branding services, video/multimedia production, print media, and copywriting, as well as website and email hosting, database solutions, pay per click, e-commerce solutions and custom programming.
The company has developed CRM (customer relationship management) products, marketing and lead generation tools that allow clients to better manage and convert leads to leases and sales. These applications are branded under ApartmentWebsites.com, Messagekast.com, ILoveLeasing.com, MarketSurveyTools.com, and RentPush.com. Spherexx.com provides web-based prospecting, marketing, advertising management, and support services.